World
300 Austrian imams condemn ISIS terrorists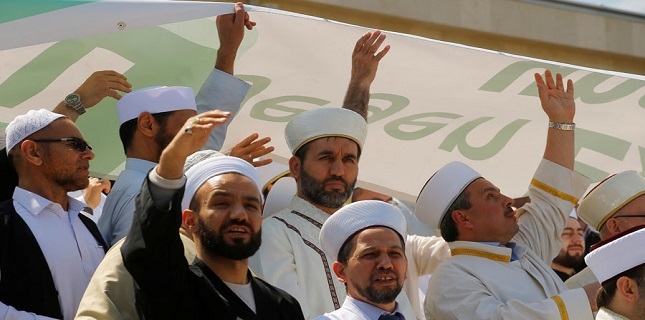 Islamic scholars in Austria have issued a declaration condemning ISIS terrorist group and urging Muslims to play a greater role in society.
300 imams, or local religious leaders, representing the mainstream Islamic Religious Authority of Austria unveiled a text that "condemns terrorist and extremist acts of violence all over the world," and "holds that the atrocities of the ISIS terrorists are contrary to Islam and must be condemned most severely." 180 imams gathered in Vienna for a signing ceremony, and an additional 120 endorsed the declaration through email.
According to government statistics, about 22 percent of the country's 8.7 million population are "of a migrant background." The exact number of Muslims is harder to calculate – with estimates varying between 5 and 10 percent – though all sources agree that demographic profiles and birthrates mean that they are over represented among the young.
"Every Muslim man and Muslim woman is to play an active part in the security and peace of the country and its citizens," the imams say. They also "call upon Muslims to participate actively in various social spheres."
Amid a resurgence of the nationalist Freedom Party, largely provoked by the influx of over 90,000 migrants into the country since 2015, the discussion of integration, both for settled migrants and asylum-seekers, has dominated the public sphere.
A controversial law was passed by the centrist coalition last month, banning the burqa and niqab – full-face veils worn by some Muslims – from October this year, and forcing migrants to attend integration courses in exchange for receiving benefits.
But the declaration says that there is no deeper integration issue presented by Islam, insisting that "terrorism cannot be attributed to a religion, an ethnicity or a culture" and stating that "terrorists misuse our peaceful religion of Islam to reach their political goals."