World
Turkey, Russia agree on military hotline to avoid 'incidents'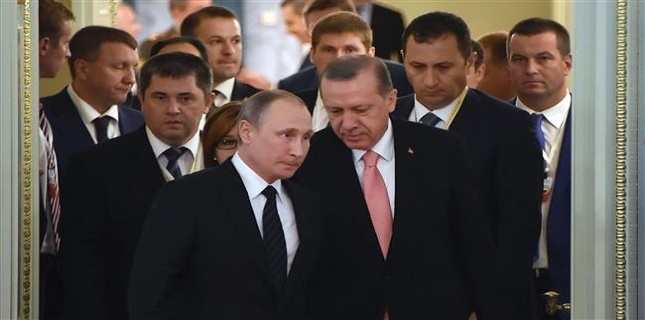 Ankara says that an emergency hotline between the offices of the Turkish and Russian army commanders is to be established to avoid "unwanted incidents" similar to the last year's downing of a Russian jet by Turkish fighter planes.
"We have agreed to be in close contact in order to avoid such incidents. In this frame, our chief of general staff and the Russian chief of general staff have re-established a direct line. They are in talks on this," Turkey's Hürriyet Daily News quoted the country's presidential spokesman, İbrahim Kalın (seen below), as saying during a live televised broadcast on Wednesday.
The announcement comes hot on the heels of a trip by Turkish President Recep Tayyip Erdogan to Russia for direct talks with his Russian counterpart Vladimir Putin amid a thawing of relations between the two countries.
"The Russian army chief and our army chief were participating in a phase of yesterday's negotiations. They have still been in contact over creation the direct phone line," the Turkish Yeni Şafak daily quoted Kalın as saying.
He noted that the army chiefs are currently in close contract over regional issues of mutual interest, especially the crisis in Syria.
Relations between the two countries strained after Turkey downed a Russian jet close to the Syrian border in 2015. One of the two pilots of the Russian Sukhoi Su-24M was killed by anti-Damascus militants on the ground after parachuting out of the targeted jet.
"They want the mechanism to begin its activities immediately," Kalın added.
Earlier on Wednesday, Turkish Foreign Minister Mevlut Cavusoglu (seen below) announced that a Turkish delegation, including Foreign Ministry, military, and defense officials, would travel to Russia later in the day for follow-up talks.
He also said that Ankara and Moscow shared the same views concerning the need for a ceasefire in Syria and the provision of humanitarian aid to the civilians affected by the conflict there.
"We are doing it for our interests, for regional interests. We are actually issuing our messages to the West in a clear way," he added.
Syria has been gripped by foreign-backed militancy since March 2011. UN Special Envoy for Syria Staffan de Mistura estimates that over 400,000 people have been killed in the conflict.