World
42 dead as twin bomb attacks hit northeastern Nigerian mosque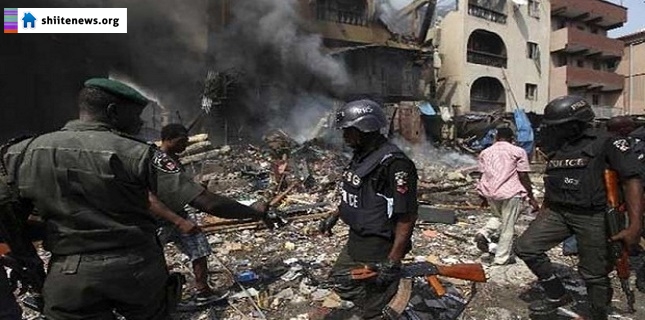 At least 42 people have lost their lives when two bomb explosions ripped through a mosque in Nigeria's restive northeastern state of Borno.
Witnesses said the bombs went off in quick succession at around 6.30 p.m. local time (1730 GMT) on Thursday as two bombers, disguised as worshippers, slipped into the place of worship in the western Molai neighborhood of the city of Maiduguri, located approximately 870 kilometers (540 miles) north of the capital, Abuja, where people had converged for evening prayers.
"All the people in the mosque died. Not a single one escaped," Muhtari Ahmadu, a trader near the scene of the blasts, said.
"The mosque can accommodate at least 40 people at a time but I don't know whether many people were inside at the time of the incident," Ahmadu added.
There was no immediate claim of responsibility for the attack. However, Nigerian officials usually blame such assaults on Boko Haram Takfiri terrorists.
The development came only two days after triple bombings killed at least seven people in the Ajilari Cross area of Maiduguri. The blasts targeted people who were leaving their homes to enjoy the evening breeze following scorching daytime temperatures. Witnesses said gunfire followed the three explosions, with authorities blaming Boko Haram Takfiris for the attacks.
Nigeria has intensified its crackdown on Boko Haram as the terrorist group continues to wreak havoc across the country through bombings, raids and kidnappings.
In a meeting with commander of the United States Africa Command, General David Rodriguez, on October 14, Nigerian President Muhammadu Buhari called for the "final routing of Boko Haram as an organized fighting force" by the end of the year.
Nigerian troops launched a raid on militants on Tuesday reportedly in revenge for the last week's attack on a military camp in the northeastern town of Geidam. Reports said 10 militants were killed in the operation.
The Boko Haram militancy began in 2009, when the terrorist group started an armed rebellion against the government. At least 17,000 people have been killed and more than 2.5 million made homeless since then.
The Boko Harman militancy has also spilled over into several neighboring African nations as well. Troops from Nigeria, Chad, Cameroon and Niger have been battling Boko Haram terrorists in recent months.
The terrorists have recently pledged allegiance to the Takfiri Daesh militant group, which is primarily operating inside Syria and Iraq.