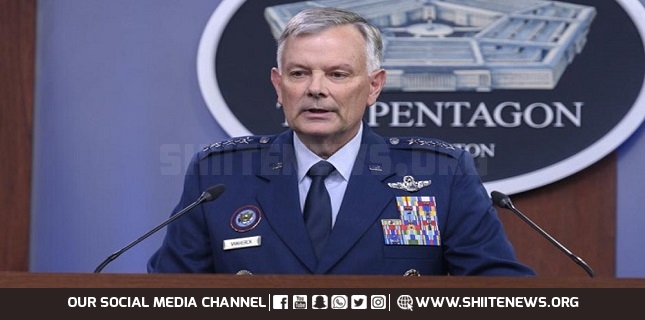 A high-ranking American general says the United States, which recently claimed to have spotted and shot down an alleged Chinese spy balloon, had failed to detect previous airships, calling it an "awareness gap."
Air Force General Glen VanHerck, head of US North American Aerospace Defense Command and Northern Command, made the remark on Monday, days after the Chinese dirigible turned up off the South Carolina coast.
American officials and media outlets seized on the opportunity to further hype up Washington's already vicious anti-Beijing discourse by weaving a spying saga over the balloon.
The US military also scrambled several warplanes, an F-22 aircraft among which shot down the object using a supersonic air-to-air missile.
The hue and cry, followed by the aerial mission, came despite the fact that China had repeatedly identified the balloon as no more than a civilian meteorological airship used for scientific research purposes. Beijing said it had wandered onto the American territory by adverse winds.
VanHerck described the balloon as a 200-feet (60-meters) tall object carrying an alleged payload of a couple thousand pounds.
The Pentagon alleged over the weekend that Chinese "spy balloons" had briefly flown over the United States at least three times under former President Donald Trump's administration, and one previously under President Joe Biden.
"I will tell you that we did not detect those threats, and that's a domain awareness gap," VanHerck said.
US Secretary of State Antony Blinken has already postponed a planned visit to China amid the anti-Beijing mudslinging campaign that has emerged over the incident.
Also on Monday, China urged the United States not to take steps that would escalate tensions or harm Beijing's interests.
"China firmly opposes and strongly protests against this," Xie Feng, China's vice foreign minister, said in remarks to the US Embassy in China. "The Chinese government is closely following the development of the situation," Xie added.
Biden: US-China relations not weakened by balloon incident
On Monday, US President Joe Biden tried to downplay the incident, saying that relations between Washington and Beijing were not weakened by downing of the Chinese balloon over the weekend.
Speaking to reporters outside the White House, Biden said it was always his view that the balloon needed to be shot down "as soon as it was appropriate."
Asked if the balloon incident weakens US-China relations, Biden said, "No. We made it clear to China what we're going to do. They understand our position. We're not going to back off."
Biden added, "We did the right thing and it's not a question of weakening or strengthening – it's reality."