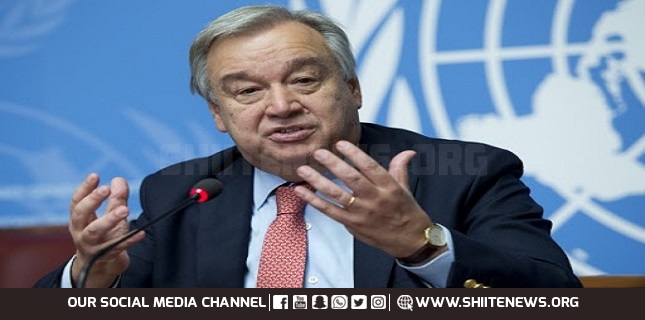 UN Secretary-General Antonio Guterres was dismayed by civilian casualties in Gaza and "deeply disturbed" by Israel's strike on a building containing international media outlets, a spokesman said in a statement released Saturday.
Guterres spoke as Israel pummeled the Gaza Strip with airstrikes, martyring 10 members of an extended family and demolishing the 13-floor Gaza building housing Qatar-based Al Jazeera and the Associated Press news agency, with Palestinian militants firing back barrages of rockets.
"The Secretary-General is dismayed by the increasing number of civilian casualties, including the death of ten members of the same family, including children, as a result of an Israeli airstrike last night in the al-Shati camp in Gaza, purportedly aimed at a Hamas leader," his spokesman, Stephane Dujarric, said in the statement.
Guterres was "also deeply disturbed by the destruction by an Israeli airstrike today of a high-rise building in Gaza City that housed the offices of several international media organizations as well as residential apartments," Dujarric continued.
"The Secretary-General reminds all sides that any indiscriminate targeting of civilians and media structures violates international law and must be avoided at all costs," he said.
The tower housed 13 floors of international media news outlets, including Al Jazeera, the Associated Press and AFP.
The tower also housed a number of medical offices, law offices, Internet service offices and residential homes, which were razed to the ground by Israeli warplanes and drones.
Pictures published in the media show that the Israeli regime's air attack on the tower has led to its complete destruction.
The Palestinian Ministry of Health announced on Saturday that at least 139 Palestinians, including 39 children are martyred and more than 950 others, have been injured in a new round of Israeli attacks on the Gaza Strip since last Monday.
The Al-Aqsa Mosque and its neighboring area, especially the Bab al-Amoud neighborhood, have been the scene of Israeli militant attacks on Palestinians in recent days.
As Palestinians protest against the Israeli plan has increased, Israeli militant attacks and clashes with Palestinian protesters have intensified too.