World
Online event: seeking justice for the Zaria massacre & Sheikh Zakzaky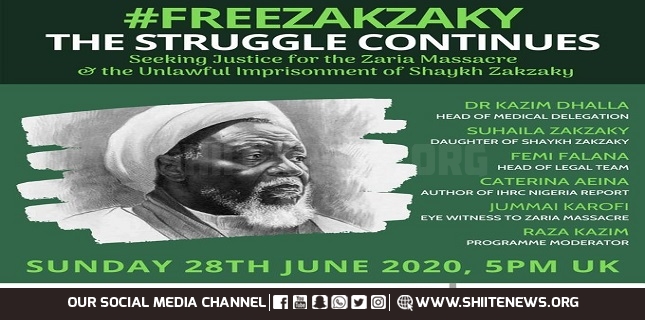 The Islamic Human Rights Commission in collaboration with the Qa'im Initiative will hold online meeting to discuss the latest reporting and status on Sheikh Zakzaky and Mallima Zeenah and what needs to be done to end this Unlawful Imprisonment on Sunday June 28th, 2020.
The Zaria Massacre took place in December 2015. Over a thousand were killed, and hundreds arrested. It is nearly 5 years and Sheikh Zakzaky and Mallima Zeenah remain imprisoned, the bodies of those killed remain in mass graves, and those responsible for the atrocity have not been held accountable.
The recent IHRC report sent to the ICC on the Zaria Massacre argues that the Nigerian government is actively seeking to destroy evidence of the events of December 2015 and urges the ICC to take action before it is too late.
Guests include Dr Kazim Dhalla, head of Medical Delegation, Suhaila Zakzaky, daughter of Shaykh Zakzaky, Femi Falana, head of Legal Team, Caterina Aeina, author of IHRC Nigeria Report, Jummai Karofi, Eye Witness to Zaria Massacre, and Raza Kazim, Programme Moderator.
The program starts at 17:00 London time ( Abuja: 17:00 |New York: 12:00| Tehran: 20:30 ). The online meeting will be broadcasted on Youtube and Facebook.