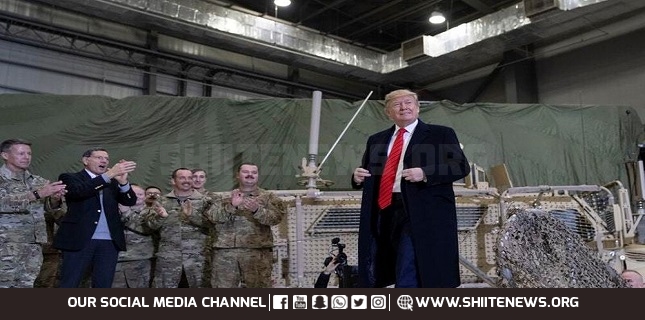 The president of the United States Trump in an unexpected trip paid a short visit to troops in Afghanistan in celebration of Thanksgiving.
The surprise visit was shrouded in secrecy. This is the first Trump visit to the longest American war scene, Afghanistan.
Donald Trump's plane landed at Bagram Air Base at 8:33 p.m. local time in pitch darkness. Window curtains were drawn once again and the plane's lights were shut off to conceal Trump's arrival.
Reporters were not allowed to report on Trump's visit until minutes before boarding Air Force One again to return to the US.
Last year, after facing criticism for being in office nearly two years without visiting troops overseas, Trump had hinted for weeks that he would take a trip soon — "I'm going to a war zone," he bristled when asked whether he was afraid to visit.
No one was particularly surprised when an amateur British aircraft watcher tracked a Boeing VC-25A, one of the modified Boeing 747s that typically serves as Air Force One, flying over Europe.