Saudi Arab
Saudi authorities have launched a new arrest campaign against Palestinians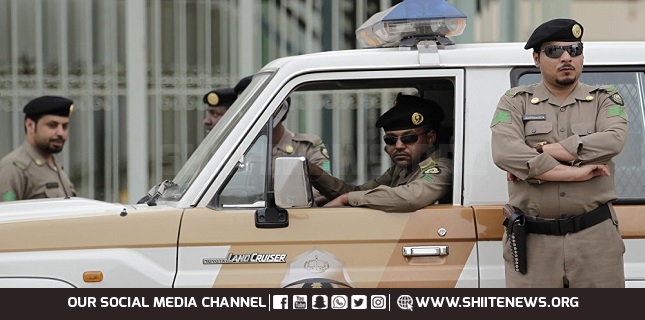 An exiled academic and political dissident says Saudi authorities have launched a new arrest campaign against Palestinians expatriates living in the conservative kingdom.
"There is an intensified campaign to arrest more Palestinians living in the kingdom, with the same charges that have so far been leveled against some 60 Palestinians. The arrest campaign will involve a number of Egyptian citizens," Saeed bin Nasser al-Ghamdi wrote in a post published on his official Twitter page on Saturday.
Ghamdi added that Saudi officials have recently released 20 Palestinian and Egyptian women, whom they had arrested during the Hajj pilgrimage last year on charges of affiliation to the Muslim Brotherhood.
He added that the women were being kept in Dhahban Central Prison near the Red Sea port city of Jeddah. They have apparently been warned not to talk about their detention situation.
Prisoners of Conscience, which is an independent non-governmental organization seeking to promote human rights in Saudi Arabia, announced in a series of posts on its official Twitter page on June 11 that more than 150 Palestinians were languishing in Saudi detention centers. Some 40 Palestinians were arrested in Jeddah alone.
The rights group added that Saudi intelligence agents had committed rights abuses against Palestinians during and after their arrest.
Arabic-language al-Khaleej Online news website reported last month that Saudi officials had blocked money transfers between the kingdom and the Gaza Strip.
The report described residents of the besieged and impoverished Gaza Strip as the main victims of the move. Most of the bank transfers that used to be carried out normally in the past were frozen just a few days before the start of the Eid al-Fitr holiday, which marks the end of the holy Muslim fasting month of Ramadan.
Remittance transactions are taking much longer than usual – something that used to be done in a matter of few hours.
Many Palestinians have complained of the move, and termed it as "unprecedented." They argue that the process of transferring money between Saudi Arabia and the Gaza Strip has become extraordinarily difficult.
Over the past two years, Saudi authorities have deported more than 100 Palestinians from the kingdom, mostly on charges of supporting the Hamas resistance movement financially, politically or through social networking sites.
The Riyadh regime has imposed strict control over Palestinian funds in Saudi Arabia since the end of 2017.
All remittances of Palestinian expatriates are being tightly controlled, fearing that these funds could be diverted indirectly and through other countries to Hamas.
Money transfer offices are asking the Palestinians to bring forward strong arguments for conversion, and do not allow the ceiling of one's money transfer to exceed $3,000.