Saudi Arab
Female Saudi TV presenter flees kingdom over 'indecent dress' probe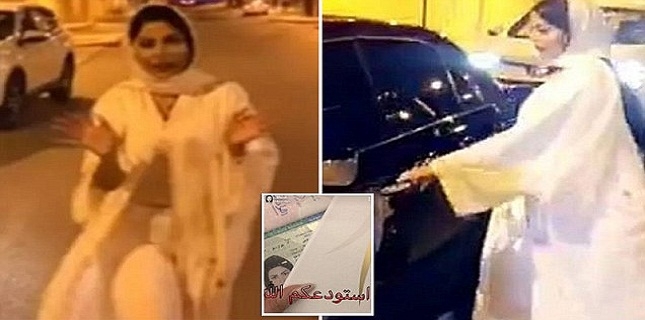 A female Saudi TV presenter has fled the deeply conservative kingdom, shortly after authorities announced the launch of an investigation into what is said to be her dress code violations.
Shereen al-Rifaie, who was reporting on the lifting of the ban on women's driving, was accused of dressing inappropriately.
She is said to have fled Saudi Arabia after receiving a notification referring her for the probe over her dress code violation. However, the Saudi Information Ministry and General Commission for Audiovisual Media (GCAM) regulatory authority said disciplinary measures would be taken against the TV presenter, even in her absence.
A video recording posted on social media websites showed the presenter wearing an open white abaya, showing her clothes, which was considered by the GCAM a violation of regulations.
Rifaie currently works for the Al-Aan TV station from the United Arab Emirates. She first worked at MBC Children and Al-Raya channels, before joining the public Al-Ekhbariya TV channel in 2006.
Saudi detains prominent women's rights activist
Separately, Saudi Arabia detained prominent women's rights advocate Hatoon al-Fassi, widening a crackdown that has ensnared more than a dozen activists.
The detention was confirmed by sources in touch with people close to Fassi, who said they were scared of speaking out.
Fassi was last active online on Thursday. She was planning to take journalists in her car on Sunday as other women did to celebrate the much-hyped end of the world's last ban on female drivers, long seen as an emblem of women's repression in the conservative country.
In recent weeks, Saudi authorities have been engaged in a massive crackdown on dissent against some of the very activists who previously campaigned against the ban, including Loujain al-Hathloul, Eman al-Nafjan, and Aziza al-Yousef as well as male activists Ibrahim al-Modaimeegh, Mohammad al-Rabea and Abdulaziz al-Meshaal.
Saudi Arabia's public prosecutor said earlier this month that a total of 17 people had been arrested. Authorities said more suspects were being looked for.
The authorities accused them of suspicious contacts with "foreign entities".
Local Saudi media labeled them traitors.
Several have remained in detention "after sufficient evidence was made available and for their confessions of charges attributed to them".
International human rights groups have long urged the kingdom to improve its treatment of human rights advocates and end the death penalty.
The United Nations has accused Riyadh of misusing its anti-terror law to crush peaceful dissent, denying freedom of expression, imprisoning critics and allegedly subjecting some of them to torture.