Saudi Arab
Saudi Wahhabi forces shot at peaceful protests against Shia of Qatif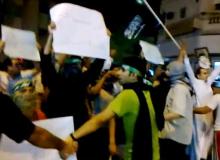 Saudi Wahhabi forces have used stun grenades and rubber bullets to disperse the hundreds peaceful Shia protesters demanding release of prisoners in Qatif, wounded more than four demonstrators and it is said that one martyred.According to eyewitnesses more than 400 peaceful protesters raised the Saudi flags and then police began shooting towards the  demonstrators, wounded at least four demonstrators and one person martyred.
In response to firing demonstrators chanted "peaceful peaceful ..".
Witnesses said that hundreds of protesters, including women holding Roses in their hands, took to the streets on Thursday. As the rally was about to finish, police opened fire on them, injuring at least four of them, all Shias. They were later taken to Qatif general hospital, witnesses said.
Back to top button