Saudi Arab
Saudi Wahabi forces arrest female protesters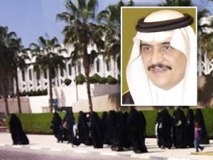 Saudi security forces have reportedly arrested dozens of female anti-government protesters, who had rallied in the east of the country to call for the release of prisoners. The detainees, who number around 40, have been beaten before being placed in custody, DPA reported on Sunday.
The women had taken to the streets of the kingdom and demonstrated in front of a government building in Dammam city to object to the imprisonment without trial of their husbands, who have been kept behind bars for at least 15 years.
The kingdom's Interior Ministry has banned all kinds of demonstrations and public gatherings as and pro-democracy rallies and protests at the incarcerations gain momentum.
Saudi Shias — who comprise 20 percent of the 25,000,000 population — have been staging small protests for about two weeks in the east, Reuters reported.
They have for long protested suppression by the government, whom they say, has been hogging their share of the oil income and banning them from state-run organization.Last month, a demonstration was held in the oil-producing Eastern province of Qatif against imprisonments.
Saudi youths have, meanwhile, designated March 13th as the 'Day of Rage' against the government with thousands of people announcing their preparedness for attending the protests.
Saudi Eastern Governor Threatened Shia Women, Ordered Forces to Beat and Expel Them from the Palace
Saudi Wahhabi security forces attacked a group of Shia women demanding the release of their husbands and children.
They chanted the men and children have been "forgotten" and called for their immediate release of prisoners arrested for years without any trial.
Sources said that the Governor of Eastern Region Muhammad Bin Fahd ordered security forces to beat the women after blustering and threatening and claimed to return of the detainees.
A women who participated in the rally said, Muhammad bin Fahd threatens us after we asked for the release of our detainees who are in jail for more than 16 years without trial.
One of the wife of the detainees said: we just chanted peacefully to say the Saudi authorities to release our detainees but the Wahhabi security forces surrounded us and started beating us with batons and shouting and forced us to get out of the palace and we cried out "freedom .. freedom."
The protesters threatened to sit in front of the palace, if not met their demands, the security forces heavily deployed around the building of the palace in Dammam.
This incident comes after a meeting between Governor of Eastern Region Muhammad Bin Fahad last week at the headquarters of the palace with a number of Shia clerics and figures from Qatif asking them to discouraging young people from going out in the marches, which he described non-official.
Back to top button