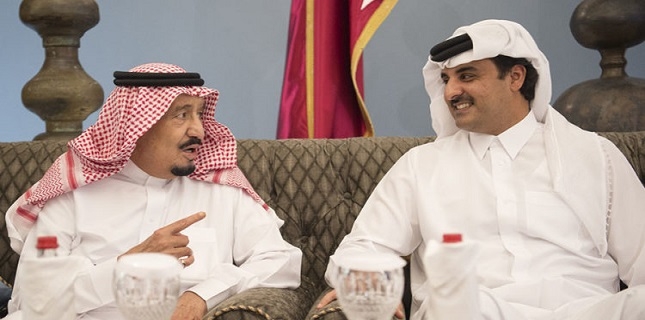 Saudi Arabia's Crown Prince and de facto ruler Mohamed Bin Salman (MbS) leveled fresh insult at Doha saying Qatar is too little and too unimportant to waste his time and the country's case is processed by not even a minister but a mid-rank foreign ministry staffer.
The Riyadh-backed Al-Arabiya cited Saudi royal court adviser Saud Al-Qahtani as saying on Tuesday that the 32-year-old crown prince has addressed the Qatar crisis during his meeting with reporters in Egypt and stressed that he did not occupy himself with it.
"I do not occupy myself with it. The one handling the matter has a post less than a minister's. Qatar's entire population is less than the number of residents in a street in Egypt. Any minister (in Saudi Arabia) can resolve that crisis," Qahtani quoted the Crown Prince as saying.
"A dear colleague at the ministry of foreign affairs whose ranking is Grade 12 is in charge of the Qatari matter, in addition to the tasks assigned to him," Qahtani said on Twitter.
He also added that the King's son compared US' policy towards Cuba with the anti-terror quartet's policy towards Doha.
"I disagree with his Highness in one thing here. The US was deprived of the Cuban cigar but we have not been deprived of anything. Qatar has been deprived of everything, such as pastures, and it ended up transforming from a 'peninsula' into an isolated 'island'," he stated.
In early June, Saudi Arabia, the UAE, Egypt and Bahrain severed diplomatic and trade ties with Qatar, accusing Doha of supporting terrorism and destabilizing the Middle East, while Qatar, for its part, slammed the measures as unjustified, stressing that they are based on false claims and assumptions. It also denied the accusations, describing attempts to diplomatically isolate it as a violation of international law and its national sovereignty.
The four threatened to impose further sanctions on Doha if it failed to accept a long list of demands, including the closure of the Qatar-funded Al-Jazeera television and scaling down ties with Iran, but the Middle East country stressed that the demands by Saudi Arabia and its allies were impossible to meet.
Qatar has announced that Doha would not meet any of the 13 demands made by Riyadh and its allies, offering instead "a proper condition for a dialogue" to resolve the [Persian] Gulf crisis, accused Saudi Arabia and its regional allies of "demanding that we must surrender our sovereignty as the price for ending the siege". But, Riyadh reiterated that its demands to Qatar to end the stand-off in the [Persian] Gulf were "non-negotiable".
Qatar is supported by Turkey and Iran as Ankara and Tehran have stepped in to provide fresh produce, poultry and dairy products to Doha, while Russia stressed that Moscow would do "everything possible" to help resolve the crisis. The US, UK and other Western countries have also dispatched senior envoys to the region to press both sides to resolve the dispute.
The split among the Arab states erupted after US President Donald Trump visited Riyadh where he accused Tehran of "destabilizing interventions" in Arab lands.
MbS, the first in line to the throne, landed in Egypt on Sunday afternoon and will fly off to the United Kingdom on Wednesday and then the United States.