Saudi Arab
Riyadh's Detente Signal to Qatar: Acceding to Defeat or New Trick?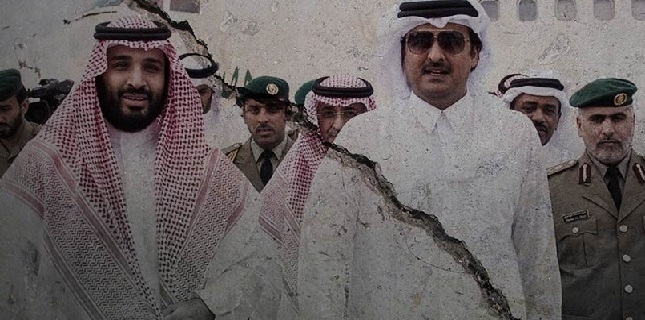 After nearly eight months, the crisis in Saudi Arabia-Qatar relations continues to unfold as all of Kuwait's mediatory moves proved to be a failure.
Saudi Arabia along with its allies the United Arab Emirates, Bahrain, and Egypt cut off diplomatic relations with Qatar in early June last year and imposed a blockade on the Persian Gulf Arab emirate for what they called Doha's pro-terrorist policies and supporting Iranian policies in the region.
The anti-Qatari move included an all-out sea, air, and ground embargo, and Riyadh did its best to provoke an international anti-Doha condemnation wave, but it failed, as only a couple of countries joined Saudi Arabia in its ban on its neighbor.
Addressing European Parliament's Committee on Foreign Relations in Brussels on Friday, Foreign Minister Adel Al-Jubeir of Saudi Arabia noted that the Qataris have halted backing the Al-Nusra Front, the Syrian branch of Al-Qaeda terrorist group, and Hamas movement. "They also allowed the Palestinian Authority to govern the Gaza Strip," he added. He called these changes in policy as "positive", hoping to see more changes of this kind because the kingdom wanted, according to him, normal ties with this country.
In the first place, these remarks are read by many analysts as the Saudi backing down on its pressures on Qatar and signal that the kingdom is making some moves to improve relations with Doha. For some, the FM's comments carry two scenarios inside their body.
First scenario: seeking to paint Riyadh as a pro-rapprochement side
The first scenario is that Saudi Arabia has not quitted its demands from Qatar. It needs the neighboring emirate to be compliant and in good terms with Riyadh's demands and policies in more than one area, including the regional disputes, negative approach to the resistant Palestinians, persistently guarding against Iran, and playing a minor role in the (Persian) Gulf Cooperation Council.
But the reality is that the international criticism in the present conditions is directed against the Saudis for their aggressive foreign policy which is largely deemed to be destabilizing the regional order. This negative face worldwide motivates the Saudi rulers to do something to burnish their country's image. They want to throw away the mounting international pressures by pretending that they want to put an end to the crisis hitting the Cooperation Council. This show gesture, the Saudi officials think, will be helpful to the claims that they seek peace and stability in the Arab world. In this scenario, it is noticeable that the Saudis soften their tone on Qatar but they do not want to make concessions to Doha. Rather, they stubbornly insist that Doha complies with their conditions which were presented to Qatar as a 13-demand list less than a month later. So, al-Jubeir's stance is largely a show move the divisions inside the six-nation Cooperation Council are too deep to be healed in the short run.
Second scenario: Political retreat as Riyadh's regional policy meets its failure
There is another window through which al-Jubeir's remarks can be viewed: Saudi Arabia is moving back from its tough stances in dealing with Qatar. A set of issues stand as reasons for this retreat. First of all, in the past three years, Saudi Arabia sustained serious regional defeats. Confronting the Iran-led Axis of Resistance, waging a war against neighboring Yemen, racing against the UAE for southern Yemen, grappling with social and political rows at home, struggling to foil Hezbollah's influence in the country, and supporting with arms and logistics the opponents of the Syrian President Bashar al-Assad all have been costly adventures of the Saudis in the region.
Stuck in a quagmire of troubles, Saudi Arabia seeks to manage the situation and introduce a sort of prioritization mechanism to its policy as it is unable to deal with all of the regional and home cases all at once. For the time being, Riyadh's priority is checking the increasing power of the Resistance camp in the region. Therefore, the Saudis find it appropriate to resume relations with Qatar afresh as this gives them a bigger opportunity to focus on their priority. The media reports have recently suggested that the Saudi, Emirati, and Qatari leaders are set to meet with the US President Donald Trump within two months. The Western pressures on Riyadh, and particularly the powerful Crown Prince Mohammed bin Salman, to end the Qatari blockade, as some believe, are another important factor relaxing Saudi Arabia's once-tough stance on Doha.
If the kingdom backs down on its 13 conditions, I will not be without cost to the Saudis' prestige. The retreat will be widely judged as a major defeat against Doha of a country with claims of leadership of the Arab world. This will be considered a blow to the Saudi policies because, unlike claims of al-Jubeir, Qatar over this time of the crisis not only declined to review its policy but also engaged in warmer relations with Iran, a regional rival to Saudi Arabia.
From another aspect, quitting the anti-Qatari pressures very well exhibits bin Salman's obliviousness to his country's foreign policy limits in his designing of ambitious long-term plans for transforming into a regional power. After eight months, it is the boycotting side that comes up with the conclusion that restrictive approach to Qatar is doomed to fail and a shift of behavior is necessary.