Saudi Arab
Jailed billionaire prince says could be freed soon after 'discussions' with govt.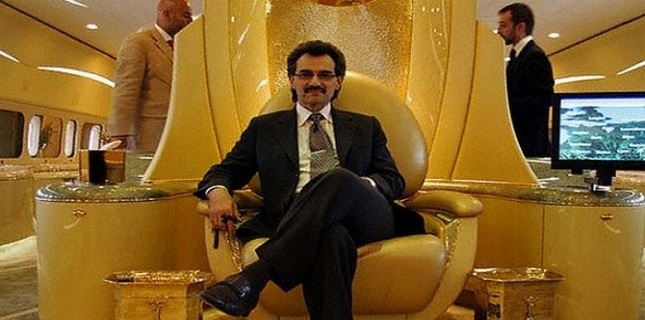 Billionaire Saudi Prince al-Waleed bin Talal, who has been detained for over two months as part of a royal purge, says he will be freed "within days" after "discussions" with the government come to an end.
In an exclusive interview with Reuters on Saturday, bin Talal, one of the richest men in the world who owns stakes in Citigroup and Twitter, said that he was continuing to maintain his innocence of any corruption in talks with Saudi authorities.
"There are no charges. There are just some discussions between me and the government," he said. "I believe we are on the verge of finishing everything within days."
The interview was Prince al-Waleed's first public talk since his detention.
He made the interview at his suite at Ritz-Carlton Hotel in the Saudi capital, Riyadh, where he has been held along with dozens of other high-profile figures.
Allegations against Prince al-Waleed included money laundering, bribery and extorting officials.
The Saudi prince was one of the businessmen and royals rounded up in November 2017 in an alleged "anti-corruption campaign" spearheaded by Crown Prince Mohammed bin Salman.
Observers said the campaign was actually meant to consolidate bin Salman's power and silence his critics.
Bin Talal's detention and the ensuing reports regarding his situation in custody made headlines around the world, putting pressure on bin Salman, who was linked to pricey art and real estate purchases at the height of the "anti-graft" clampdown.
On November 9, 2017, the Middle East Eye (MEE) news portal revealed that some of those detained in the Saudi crackdown were beaten and tortured so badly during their arrest or subsequent interrogations.
However, the report added, there are no wounds to the faces of those caught up so they will look normal when they next appear in public.
Bin Talal had reportedly been hung upside down and beaten at Ritz-Carlton Hotel. His father also went on hunger strike in protest at the detention of three of his sons as part of the kingdom's purported anti-graft campaign.
Elsewhere in his interview, bin Talal, who is a nephew of King Salman bin Abdulaziz Al Saud, claimed that he had been well treated, rejecting reports of mistreatment and of being moved from Ritz-Carlton Hotel to a prison.
He further claimed that he was expected to keep control of his global investment company Kingdom Holding without being required to give up assets to the government.
This is while The Wall Street Journal reported last month that the kingdom was pressuring bin Talal to pay up a whopping six billion dollars.
Saudi Arabia has begun securing cash settlement deals with the prominent detainees, receiving hefty amounts in exchange for their freedom.
A senior government official told Bloomberg on Monday that the kingdom is likely to bag over $100 billion in monetary settlement deals with the detained princes and businessmen.