Saudi Arab
Emirati-backed group 'to oust Saudi-backed Yemen government'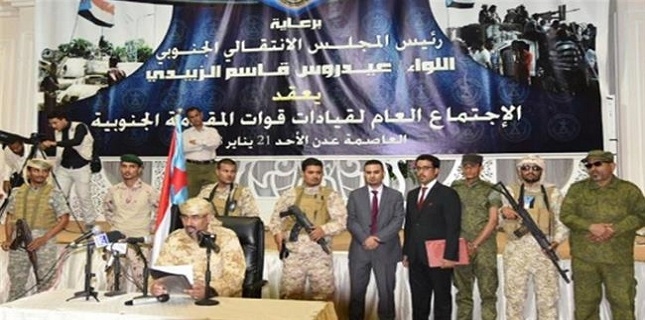 A group of Yemeni militants backed by the United Arab Emirates (UAE) has pledged to "overthrow" the "government" of a former Yemeni president whom Saudi Arabia has been attempting to prop up as the leader of the war-stricken country.
The separatist group, which calls itself the Southern Transitional Council, said in a Sunday event that it would overthrow the "government" of Abd Rabbuh Mansur Hadi, who has lost power in Yemen but whom Saudi Arabia has unsuccessfully been attempting to reinstall as Yemen's president, Al Jazeera reported Monday.
Aidarous al-Zubaidi, the leader of the militant group, said the Yemeni parliament that has likewise been ousted but continues to claim legitimacy would be barred from convening in the city of Aden unless Hadi removes his prime minister Ahmed bin Daghr and his entire cabinet.
Zubaidi used to be Hadi's "governor" for Aden Province before the former president fired him reportedly over his close links with the UAE.
In his Sunday remarks, Zubaidi accused Hadi's regime of "rampant corruption."
"The Southern Resistance Forces (SRF) declare[s] a state of emergency in Aden and announce[s] that it has begun the process of overthrowing" Hadi's government and "replacing it with a cabinet of technocrats," read a statement by the STC.
The ragtag grouping of militants headed by Zubaidi receives backing from the Emirates, which is nevertheless a member of the Saudi-led coalition waging war on Yemen to reinstall Hadi. But reports have recently revealed schisms between the UAE and Saudi Arabia on matters related to the war.
Al Jazeera said several commanders of units set up by the UAE attended the Sunday event where Zubaidi spoke and "declared their support for the announcement."
Saudi Arabia has been leading a coalition of its vassal states in waging war on Yemen since March 2015 to reinstall Hadi, who resigned from presidency in January 2015 amid popular outcry over corruption and mismanagement of the economy. Houthi Ansarullah fighters then took over state matters to prevent the country from descending into chaos.
But Hadi, who initially fled to Saudi Arabia, started to reclaim a right to power when Riyadh agreed to form the coalition to drive out the Houthis, whom the Saudi regime accuses of being "Iranian-backed."
That war has been unsuccessful to this day, and reports have recently revealed cracks in the coalition in the form of differences between Hadi and the UAE, which has reportedly gained oversized influence in southern Yemen.
Citing sources close to Hadi, the Middle East Eye news website said in a report in May last year that Hadi was angry at Emirati forces for acting "like an occupation power" in Yemen.
Yemeni turf for a war between Saudi Arabia & the UAE
Those differences led to tensions between rival militant groups over the control of Aden's airport in February and May last year, when Hadi ultimately sacked Zubaidi as Aden's governor.
UAE Minister of State for Foreign Affairs Anwar Gargash criticized the sacking of Zubaidi — and another individual close to the Emirates — at the time.
Saudi Arabia attempted to mediate but publicly endorsed Hadi, deepening the Emiratis' anger.
"Among the rules of political action is that you should build trust with your allies, that you should not stab them in the back, that your decisions should be commensurate with your capabilities and that you put public interest ahead of personal ones," Gargash said in a tweet, without naming Saudi Arabia.
Tensions between Riyadh and Abu Dhabi — yet to play out in full display — could have major consequences for the Saudi-led coalition, which has for almost three years been fighting a war it hoped to finish in a matter of weeks.
The war has so far killed 13,600 people. Saudi Arabia has come under pressure both over the mounting civilian casualties and a famine and cholera outbreak in Yemen, which was already the Arab world's poorest country before the war began.
Germany on Saturday stopped the sale of weaponry to Saudi Arabia and all of the Riyadh-led coalition members except Jordan.