Saudi Arab
Saudi warplanes use cluster bombs in airstrikes on Yemen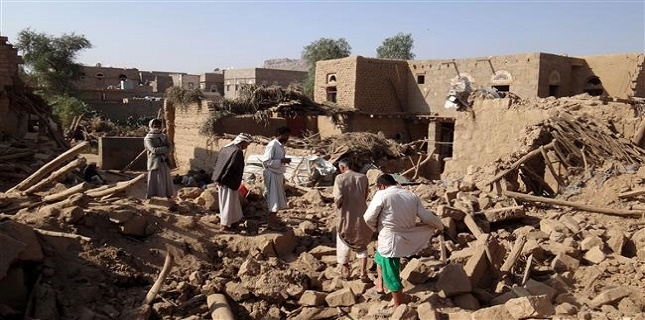 Saudi Arabia has intensified its airstrikes on Yemen, using internationally-banned cluster bombs in its air assaults against the impoverished country.
The Yemeni news agency SABA said Saudi fighter jets dropped cluster bombs on several areas in the district of Baqem in the northern province of Sa'ada on Sunday.
The attacks came in defiance of international laws, which prohibit the use of such weapons.
The United Nations (UN)'s human rights office has recently called for an independent international investigation of cases of human rights violations in the Saudi war on Yemen, confirming the use of banned cluster bombs by Saudi Arabia against Yemen's residential areas.
On May 6, Human Rights Watch (HRW) criticized the United States for selling cluster munitions to Saudi Arabia.
The UK was also rapped by Amnesty International over supplying Riyadh with British-made cluster bombs, which have likewise been used against civilians in Yemen.
Elsewhere in Sa'ada, Saudi warplanes launched air raids on the district of Shada on Sunday.
Three Saudi airstrikes also hit al-Nahdin district in Sana'a Province.
However, there were no immediate reports of causalities from the air raids.
Also on Sunday, at least a woman was killed and two other people were wounded in Saudi airstrikes on residential areas in the Matun district of Jawf Province.
Saudi warplanes also destroyed the building of Doctors' Syndicate in the western province of Hudaydah overnight. Two civilians were injured in the air raids, one of them critically.
Separately, Saudi-backed mercenaries fired mortar shells at a market in the Bir Basha area in the southwestern province of Ta'izz early on Monday, killing and injuring a number of Yemenis.
Also in the early hours of Monday, a heavy explosion hit the entrance to the central prison in Mansoura district in the province of Aden in southern Yemen, killing and injuring an unspecified number of people.
Saudi Arabia has been incessantly pounding Yemen since March 2015, with the UN putting the death toll from the military aggression at about 10,000. The offensive was launched in an attempt to reinstate Abd Rabbuh Mansur Hadi, a Saudi ally who has resigned as Yemen's president. That prospect has so far proven out of hand for the Riyadh regime.