Saudi Arab
Saudi Whistle-Blower: Bin Salman Meets Israeli PM in Jordan, Riyadh Following in Saddam's Footsteps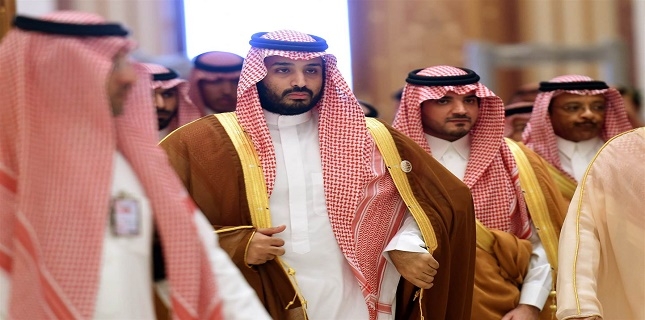 Saudi whistle-blower Mujtahid, who is believed to be a member of or have a well-connected source in the royal family, revealed that Deputy Crown Prince and Defense Minister Mohammad bin Salman has met Israeli Prime Minister Benjamin Netanyahu during his recent visit to Jordan, and said the Riyadh government is following in the footsteps of former Iraqi dictator Saddam Hussein by getting close to Israel.
"I have been assured that bin Salman met Netanyahu in the city of al-Aqaba in Jordan about three months ago," Mujtahid wrote on his tweeter page on Tuesday.
According to the whistleblower, the main reason for holding a meeting between bin Salman and Netanyahu was to plot against Iran and also win the support of Israel and the US-based Zionist lobby for Saudi Deputy crown prince in a bid to weaken bin Salman's rival in the Saudi power struggle, Mohammad bin Nayef.
Mujtahid also pointed to Saudi Arabia's support for Mojahedin-e Khalq Organization (MKO, also known as the MEK, PMOI and NCR) terrorist group, and said, "The presence of former Saudi General Intelligence Directorate (GID) Chief Turki al-Faisal in MKO's annual meeting in Paris is in line with the Riyadh government's anti-Iran efforts."
He reiterated that the Al Saud has replaced the former Iraqi dictator Saddam Hussein who supported the MKO terrorist organization.
"Al-Faisal's presence in the MKO annual meeting shows that Saudi Arabia is using every opportunity to come closer to Israel," Mujtahid said.
In relevant remarks on Tuesday, Iranian Foreign Minister Mohammad Javad Zarif blasted al-Faisal for participating in the annual gathering of the MKO terrorist group, saying he is going the same path that former Iraqi dictator Saddam Hussein did.
Speaking to reporters upon arrival in Kazakhstan for a ministerial meeting of the Caspian Sea littoral states, Zarif lambasted France for hosting the MKO terrorists' annual gathering.
He said every year, a number of infamous political figures from different countries participate in the gathering giving a speech.
"These people have visible records. People like Bolton and Gingrich have been attending such meetings and supporting the terrorists for years, and it is not a new event and they have always been pursuing the same policy," Zarif said.
"Unfortunately, the presence of a person who is the manufacturer of both the al-Qaeda and the Taliban and has played a highly disgraceful role in the Saudi regime's past actions in the region (Turki al-Faisal) has drawn so much attention from the media which shows his lack of competence and wisdom as he has tied his future to the terrorists like what Saddam Hussein did," he added.
Also on Tuesday, Iranian Government Spokesman Mohammad Baqer Nobakht deplored Saudi Arabia and France for their support for the MKO terrorist group.
"We condemn any positive measure or assistance to this terrorist grouplet by any government," Nobakht told reporters in Tehran.