Saudi Arab
Israel and Saudi Arabia: Choosing the Lesser of Two Evils Is Still Choosing Evil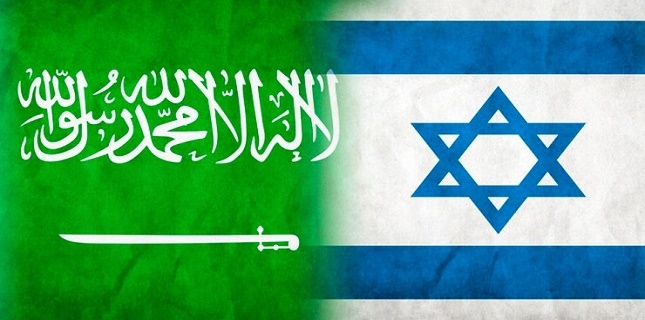 Israel and Saudi Arabia have decided to back each other publicly in confronting Iran. For both of them the strategy is a necessary evil, and evil is always possible.
To substantiate, Major-General Herzi Halevy, the chief of the Israeli Intelligence Directorate, has expressed approval for Saudi Arabian King Salman bin Abdulaziz Al Saud's policy towards Iran.
Speaking on Wednesday, June 15, Halevy praised the Riyadh regime's efforts to rally Arab states against Tehran, saying, "Saudi Arabia is the country that has perhaps taken the strongest stand in the face of Iran in the Middle East. There is an interesting phenomenon here. Some of these pragmatic Sunni countries are getting close to our interests. There is an opportunity here."
Similarly, Director-General of Israel's Foreign Ministry Dore Gold has confirmed that dialogue is underway between Tel Aviv and Arab countries that he cannot name. The remarks came two months after Anwar Eshki, a former general in the Saudi military, said Riyadh would open an embassy in Tel Aviv if Israel accepted the Saudi initiative to end the Middle East conflict.
Although there appears to be little momentum in that direction, it's still a reasonable facsimile. It suggests that even if the biggest violators of International Law and human rights aren't there yet, they are warming up to each other because of Iran. And why not. Riyadh and other Persian Gulf Arab states also share Israeli unhappiness with last year's nuclear deal between Tehran and the world powers.
Saudi Arabia, the birthplace of Islam, is free to see itself as a champion of Muslim rights, and even claim to be rejecting recognition of Israel short of a wider settlement satisfying Palestinian demands for a state in occupied territories. However, it cannot deny the fact that it has established communications with Israel for all the wrong reasons.
As demonstrated by the Israeli officials, under the ice, a lot of hot water is flowing now. Of course, this politico-military game has nothing to do with ending the suffering of Palestinian people through Riyadh's "peace" initiative, and everything to do with their geopolitical interests and gains i.e., Arab recognition of Israel in exchange for a united front against their common enemy Iran.
It gets more interesting to realise that the tribute and the liaison were inevitable, as both Saudi Arabia and Israel want to preserve the regional status quo as well. They seek regime change in Damascus and they want to make sure it will be a Qatari pipeline that pumps natural gas to Europe via Turkey, and not Iran's long-approved pipeline through Iraq and Syria.
It stands to reason why the US, their patron, is bombing Syria. The War Party had its eyes fixated on Syria for a long time, and the ISIL canard was nothing but a pretext to begin the regime change and pipeline war. Now if that takes an arranged marriage between Tel Aviv and Riyadh to distract attention from the bigger imperial objective, encourage the growth of terrorist organisations, and destabilise the entire Middle East, that's perfectly fine!
It's a literal affirmation of why Iran, Syria, Russia and Hezbollah are fighting back, and why they persist with the anti-terror approach beneath the murky waters of the Middle East:
-The conflict, at considerable cost in blood and treasure, is all about the expansionist policies of the United States and regional vassals.
-The regime changers have been dishonest in their claims to fighting terror.
-The colonial game is to replace the Iranian gas pipeline project to Europe with a Qatari one.
-The ultimate goal is to contain Iran, destabilise the region, incite separatism, and undermine Syria's national sovereignty in alliance with proxy factions, Israel and back-channel contacts with Persian Gulf Arab states.
As is, the same backdrop strategy is being played in Yemen. When Iran and Oman signed an agreement similar to that of Syria for a gas pipeline in 2014, this increased Riyadh's hostility towards Oman and the attractiveness of the Hadramaut pipeline option. In February 2015 when the Houthis (Ansarullah) took control of the government, Riyadh began its bombing campaign the following month.
As maintained by senior advisor on Yemen in the Netherlands Ministry of Foreign Affairs, Joke Buringa, the energy geopolitics behind Riyadh's bombing campaign is to get Iran out of the picture and build an oil pipeline through Yemen instead. The Saudis also want to bypass the Hormuz Strait in the Persian Gulf which is controlled by Iran, and are seeking pipelines through Yemen with direct access to the Gulf of Aden and the Indian Ocean to reach the Asian market.
Interestingly, Hadramaut (which is now under the control of Al-Qaeda) and Aleppo (which is under the control of various terror groups in Syria, including Al-Qaeda affiliate Jabhat al-Nusra) are two of the few areas where the regime changers don't conduct airstrikes. They want these places in optimal shape. They have even been delivering arms to their "moderate" terrorists to expand their sphere of influence for future pipeline wealth!
The only problem is that the allied forces and the resistance front are winning the Real War on Terror and the pipeline wars. Meaning, the Saudi-Qatari pipelines and the hoped-for conquests in