Saudi Arab
Obama urged to stop selling cluster bombs to Saudis for Yemen war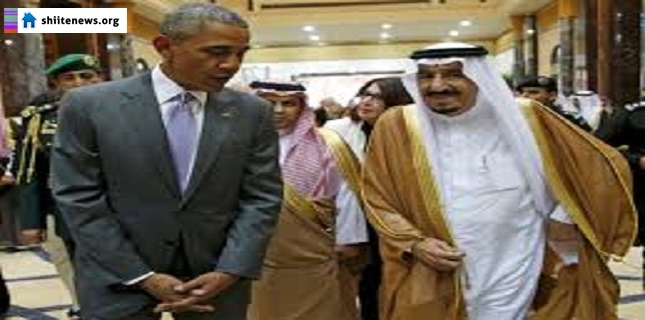 Major international rights groups are calling on US President Barack Obama to stop selling cluster bombs to Saudi Arabia for use against Yemeni civilians.
Speaking to The Independent, representatives for Human Rights Watch, Amnesty International, and the Campaign Against Arms Trade said Wednesday that Obama should use his visit to the monarchy to pressure the royal family over its human rights violations, including use of cluster bombs many Yemenis have fallen victim to during the Saudi-led aggression on the impoverished country.
Rights groups have already provided the US government with evidence showing American and British cluster bombs were being used against the people of the Arab world's poorest country.
"I personally have seen those cluster bombs used in Yemen in unlawful ways, the way you cannot use them [under international law], in or near civilian-populated areas," said HRW's Yemen researcher, Belkis Wille.
'Complete arms embargo'
Neither the US nor Saudi Arabia have signed the international treaty that bans cluster munitions.
Before Saudi Arabia launched its military aggression against Yemen on March 26, 2015, the Republican-controlled US Congress gave the green light for a deal to provide the kingdom with the abominable bombs.
"Congress has said we cannot sell to countries that use them near civilian-populated areas, and after what we at Human Rights Watch have witnessed in this war it would be unconscionable for the US to sell clusters to Saudi Arabia ever again," Wille said.
"We are calling for a ban on all cluster bombs in the future, but we also want a complete arms embargo on Saudi, particularly on the side of the US but also on the UK, until it changes its behavior in the context of this war.
Before Obama left for Riyadh to meet with King Salman bin Abdulaziz Al Saud, the Amnesty International wrote a letter, urging him to consider the country's human rights issues that also include severe crackdown on the Shia population mostly residing in Eastern Province as well as execution of myriads of Saudis apart from the war on Yemen.
More than 9,400 people have been killed and at least 16,000 others injured since the onset of the aggression on Yemen, aimed at bringing a staunch ally of Riyadh's back to power and undermine the Houthi Ansarullah movement.