Saudi Arab
Two terrorists attack on Imam Hussein mourners in Saudi Arabia leave five killed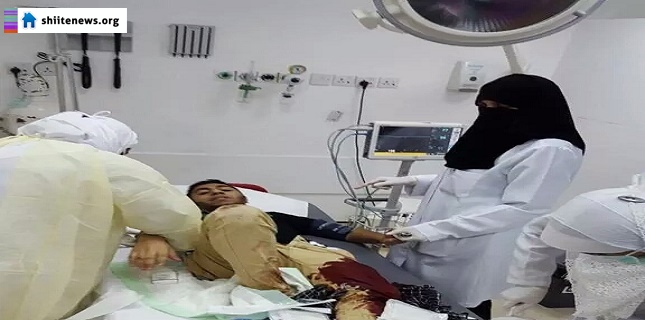 At least five Shiites were martyred and four people also sustained injuries in the armed attack on the religious center in the city of Saihat near the Qatif region of Saudi Arabia's Eastern Province on Friday night.
"A person who opened fire on a husseiniya was killed, and the attacker was in his twenties," al-Ekhbariya TV quoted sources as saying,
Witnesses said the attacker was trying to approach the Shia gathering, but he was stopped by security guards at a checkpoint. A gun fight then broke out between the two sides.
According to reports, the attacker was killed by Saudi forces, while those injured were transferred to hospital.
At the time of attack, the Shias were commemorating the beginning of the mourning rituals of the month of Muharram, the 10th day of which, known as Ashura, marks the anniversary of the martyrdom of Imam Hussein, the third Shia imam.
Saudi media say the assailant had links with the Daesh Takfiri terror group.
Second Attack
Meanwhile, reports say another armed assault targeted a Shia mosque in the al-Anoud district of Dammam, the capital of Eastern Province on Friday. A foreign worker at the site was wounded in the incident.
Saudi security sources say both assailants in the Friday attacks were Saudi nationals.
As you can see in the picture the attacker was carrying an explosive belt, but he failed to explode his belt.
Previous Daesh attacks on Shias
Over the past months, Daesh extremists have carried out several terror attacks on the Saudi soil, with most of them targeting Shia Muslims.
In a May, a bomber attacked a Shia mosque in the village of al-Qadeeh, located in the oil-rich kingdom's Qatif district, killing 21 people there. Daesh later claimed responsibility for the assault.
Following the attack, tens of thousands of demonstrators took to the streets of the region to show their anger against Daesh as well as the Al Saud dynasty. Protesters expressed their frustration at authorities over the deadly blast.
Also in August, a bomb attack, claimed by Daesh, targeted a mosque used by members of a local security force in the southwestern region of Asir, leaving 15 people dead.
During Ashura ceremonies last year, armed men killed seven Shia worshipers, including children, in the eastern town of al-Dalwa. The Saudi Interior Ministry said back then the suspects in the assault were linked to Daesh.
Daesh terrorists control swathes of land in Syria and neighboring Iraq. The extremist group has also carried out terror attacks in other countries of the world through its affiliates.
The Saudi regime is known as a major supporter of Daesh terrorists.