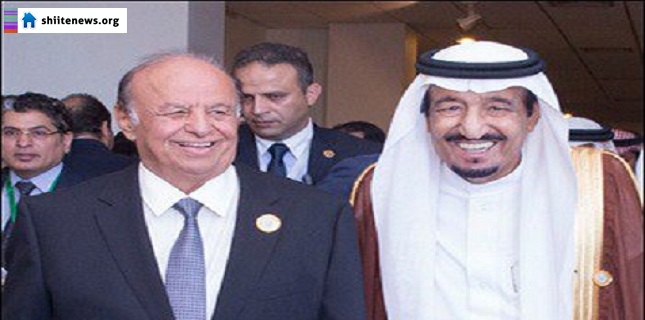 While Ansarullah movement is negotiating with the Southern Yemenis, and it has been cooperative with the United Nations representative to solve the crisis in Yemen, some Arab sources have reported that Arab coalition forces are making preparations for a military attack on the Yemeni capital, a move that could cost a lot for the Saudis. Besides, Saudi Arabia is making plans to invade Saada governorate, which is under the Ansarullah control.
The five-month airstrikes against Yemen, failed to help Saudi Arabia achieve its declared objectives, this time Saudi Arabia has decided to make direct intervention and has put it on its agenda, so that it can take over some parts of Yemen. To this end, Saudi Arabia has recently intensified its attacks on the northern governorate of Yemen, to pursue its goals through inflicting further casualties on Ansarullah forces and the Yemeni army. Local sources in the northern governorate of Saada, reported on Tuesday that the Saudi-led coalition had carried out 150 attacks on this governorate within 24 hours, which have been the most sever attacks against this governorate. According to Yemeni sources, the fighters consecutively bombed Maran region, the hometown of Abdul-Malik al-Houthi, leader of Ansarullah movement. According Yemen News Agency (SABA), as the Saudi air attacks on northern Yemen increase, it is predicted that the Saudi-led coalition begins its direct military intervention from Saada governorate.
Political analysts have also predicted that direct military intervention in Saada governorate is aimed to stop Ansarullah attacks on southern regions of Saudi Arabia. According to military sources, ground troops have headed to border areas between Yemen and Saudi Arabia, with hundreds of tanks and armored vehicles. While the Saudis and their allies are performing such actions, the Ansarullah has withdrawn its forces from south Yemen, and has focused most of its troops on Yemen border with Saudi Arabia to make some advances on Saudi soil; and even in recent days Ansarullah forces have inflicted heavy casualties on the military of Saudi Arabia, a Saudi Major General was among the casualties. Saudi Arabia's decision to make ground attack on Yemen, concurrent with negotiations of Yemeni groups and Ansarullah, shows that Riyadh rejects a political solution to the crisis. Further, governmental Yemeni resources in an interview with the al-Hayat daily newspaper noted the thorough military preparation for a large scale operation in Sanaa and other areas under the control of Ansarullah and Ali Abdullah Salih, the former president, which was similar to operations reported in the southern governorates. According to analysts, the aggressive Saudi-led coalition seeks to finalize the conflicts in Ma'rib governorate in East Yemen and decisive war in Sanaa. Therefore, Saudi warplanes have carried out fresh attacks against the Ansarullah bases in Ma'rib, and a large number of Yemeni soldiers who were trained in Riyadh, have been deployed in here. According to sources close to the fugitive Yemeni government, the number of those forces exceeds 25 thousand. A few days ago, some sources reported that the UAE has claimed responsibility for the attack on Hudaydah governorate, and it is going to invade the governorate in the coming days. While Saudi and Yemeni forces have begun their struggle for the ground attack, one can see that the Saudis have even failed to wrest control over Aden, in southern Yemen. From the first days of Saudi-led aggression, Saudi Arabia sought to take over Aden and bring back into power Abd Rabbuh Mansur Hadi, the fugitive president of Yemen, and then, implement its plan for launching attacks on Sanaa.
Saudi Arabia's decision to invade Sanaa, is a kind of self-destruction, which can lead to irreparable consequences for the Saudis, as Ansarullah forces and groups affiliated with it, have seized full control over Sanaa. Besides, people of this governorate have shown their contempt for Saudi crimes, and this has made it difficult for the Saudis to manage the situation.