Saudi Arab
Yemen
US, Germany involved in training Saudi forces accused of carnage at Yemen border: Report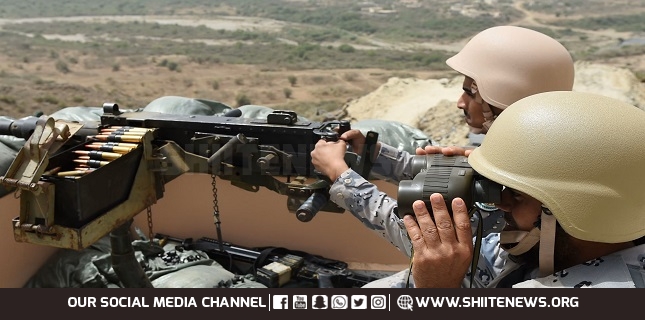 American and German military advisors have reportedly trained Saudi soldiers accused of targeting civilians and carrying out "deliberate mass killings" on the border with Yemen.
British daily newspaper The Guardian reported that German federal police service and the US military have been involved in training Saudi border guards who have been accused by Human Rights Watch (HRW) of carrying out a targeted campaign resulting in the deaths of hundreds of Ethiopian migrants.
A report by the HRW last month suggests the possibility of a crime against humanity, painting a harrowing picture of the violence faced by individuals attempting to cross the Saudi border from Yemen. HRW's investigation, which included interviews with numerous Ethiopian survivors, satellite imagery analysis, and forensic examination of wounds, unveils a distressing pattern of extreme brutality. Witness accounts depict scenes of mass killings, including women and children falling victim to shelling.
The Guardian reported that Saudi authorities have been treating illegal incursions along the Yemen-Saudi border as a "counter-terrorism" issue, which allows them to respond to the movement of people across the border with lethal force.
According to the US training agreement, Washington was required to monitor how the training was being used. The agreement also stated that those being trained were only allowed to operate defensively, to protect themselves and their sites from attacks.
A source told the newspaper that Saudi Arabia uses extensive electronic surveillance that makes it possible to differentiate between groups of migrants and those involved in armed incursions or drug smugglers.
The training of Saudi authorities by the US military is part of a long-running program known as Ministry of Interior-Military Assistance Group (MOI-MAG), which dates back to 2008.
"The US army Security Assistance Command provided border guards training, which had been funded for a period from 2015-2023, with the funding period ending in July this year," a US official told The Guardian.
German training of Saudi forces started in 2009 and paused only briefly following the gruesome killing of prominent dissident and journalist Jamal Khashoggi inside the Saudi consulate in Istanbul back in October 2018.
The training partnerships between Saudi forces and the United States and Germany were purportedly agreed as part of the kingdom's efforts to bolster its security.
For years, Ethiopian and Yemeni refugees and migrants have sought to cross the border into Saudi Arabia. Many of them are escaping economic hardship and conflict at home, with Saudi Arabia being a favored final destination as well as a transit point toward other Persian Gulf states.
The journey has become increasingly dangerous in recent years. Around 430 deaths and more than 650 injuries were recorded between the January 1 and April 30, 2022 period alone.
Earlier this month, Ethiopian survivors recounted how they were shot with heavy machine guns at Saudi Arabia's border with its southern neighbor.
One described being directly targeted by border guards, who would "aim and fire at large rocks, which would send shrapnel and stone flying in multiple directions and maximize casualties amongst the refugees."
Activists have asked why Saudi forces were unable to differentiate between civilians and those who are armed.
The kingdom's surveillance technologies include CCTV, ground monitor sensors and thermal imaging, which help pick up on people's movement and location.
In October, several UN special rapporteurs highlighted the killings in a letter, describing them as "gross human rights violations against migrants."
Saudi authorities have denied responsibility, saying that they found no evidence to show violations.
'Presence of US occupation forces to escalate Yemen crisis'
Meanwhile, a senior member of Yemen's popular Ansarullah resistance movement says the presence of US occupation forces on Yemeni soil is "contrary to international law," and suggests a new bout of aggression and blockade against Yemen.
Ali al-Qahoum, a member of Ansarullah's political bureau, told Lebanon's Arabic-language al-Mayadeen television news network that US military presence in Yemen hints at a surge in military attacks on Yemen.
Qahoum highlighted that terrorists from al-Qaeda in the Arabian Peninsula (AQAP) and Daesh Takfiri groups, are sponsored by the West and spread both in Yemen and across the Middle East to advance their colonial schemes.
He highlighted that the Sana'a-based National Salvation Government, Yemeni nation and Ansarullah chief Abdul-Malik al-Houthi are closely monitoring the movements of US and other foreign occupation forces in Yemen.
Such deployments run contrary to all international principles, and will not last long whatever the justification, Qahoum pointed out.