Saudi Arab
Top military commander forcibly disappeared as purge widens in Saudi Arabia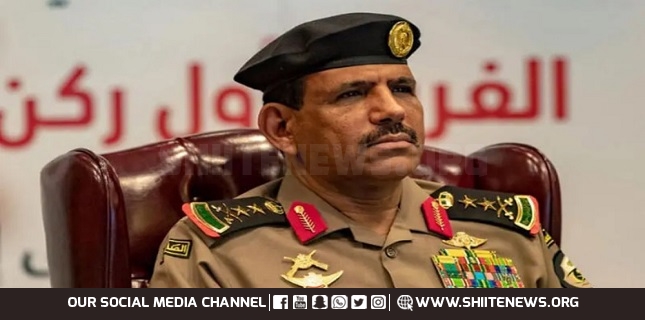 Saudi Arabian authorities have forcibly disappeared a high-ranking military commander amid attempts by the kingdom's de facto ruler Mohammed bin Salman to eliminate his political opponents, dissidents, human rights advocates and potential rivals to the throne.
Saudi activist Abdul Karim Abdul Kheil in a post published on his Twitter page wrote that senior security officials and military figures in Saudi Arabia are frequently liquidated in the midst of power struggles between the kingdom's princes.
Abdul Kheil pointed to the case of Lieutenant General Saud bin Abdulaziz bin Hilal, a former Saudi interior ministry official, noting that his whereabouts and fate remain shrouded in mystery.
The activist highlighted that bin Hilal, who held several senior security positions, was known to have close ties with former Saudi crown prince Mohammed bin Nayef, who the incumbent Mohammad bin Salman saw as his most formidable challenger.
Bin Hilal's connections with senior members of the ruling Al Saud family and former authorities made him easy prey after King Salman removed bin Nayef as crown prince and replaced him with his son, bin Salma, in June 2017, Abdul Kheil stressed.
في #السعودية مملكة القمع يتكرر تصفية ضباط وشخصيات عسكرية في خضم حسابات الصراع بين الأمراء، ومن هؤلاء الفريق سعود بن عبدالعزيز بن هلال.. أسرار تنشر لأول مرة. https://t.co/cwTpgUMfmS
— عبدالحكيم بن عبدالعزيز الدخيّل AbdulhakimAldukheil (@Abdulhakim_01) January 23, 2023
The report comes after a human rights organization sounded an alarm over the fate of political dissidents incarcerated in Saudi jails.
In its latest report, Sanad human rights organization, which monitors and exposes human rights violations in the Arab country, said civil rights activists and scholars feel threatened if they express their opinions or make critical comments.
The organization lamented that concerns about the fate of imprisoned activists in Saudi Arabia have increased in light of the Saudi leadership's heavy-handed clampdown, arrest campaigns, persecution of dissidents, and pervasive distortion and misrepresentation of facts.
It said the situation of civil rights and personal freedoms in Saudi Arabia has deteriorated significantly since bin Salman was named the kingdom's crown prince, and arbitrary arrests and deliberate abuses are increasingly becoming common.
Since bin Salman grabbed the coveted chair, the kingdom has arrested a number of activists, bloggers, intellectuals, and others seen as political opponents, showing zero tolerance for dissent even in the face of global outcry.
In what was described as the biggest purge in the kingdom's history, Saudi royals, billionaires, and senior government officials were in November 2017 rounded up and detained in the Ritz-Carlton hotel in an extraordinary abuse of power by bin Salman to remove people seen as potential threats.
As many as 500 people were rounded up in the purge, which continued until 2019. According to The Wall Street Journal, the Saudi government targeted cash and assets worth up to $800 billion.
The purge was believed to be meant to consolidate the then-nascent rule of bin Salman.
British daily newspaper the Guardian, citing a source, said the November 2017 round-up at the Ritz-Carlton hotel in Riyadh "was about consolidating his (bin Salman) rule, plain and simple" and came before the cruel murder of dissident journalist Jamal Khashoggi at the Saudi consulate in Istanbul on October 2, 2018.
"The fact that he got away with it allowed him to do the latter. The same guards involved in the Ritz were involved in the killing," the source said.
Most were later released after reaching unspecified financial settlements with the authorities.