Featured
Saudi Arab
Saudi Arabia releases Lebanese singer after weeks in captivity over Hezbollah support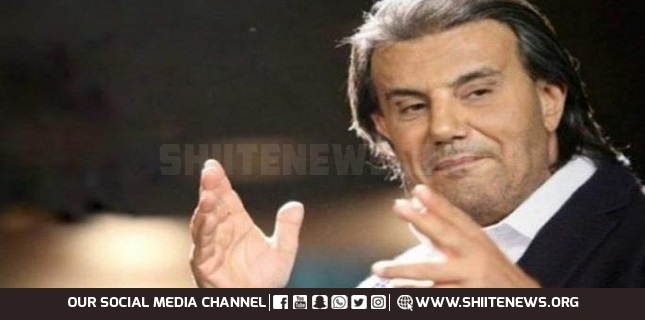 Saudi Arabian authorities have released a prominent Lebanese singer and composer, who is known for his political opinions in support of Lebanon's President Michel Aoun, his Free Patriotic Movement as well as Hezbollah resistance movement.
Samir Sfeir arrived at Beirut-Rafik Hariri International Airport from Saudi Arabia aboard a Middle East Airlines flight on Thursday afternoon, after a 50-day detention — mostly in solitary confinement — in the ultra-conservative kingdom.
Sfeir, who had residency in Saudi Arabia for five years, said he is now banned from returning.
"I was bothered by the manner. I wish they just told me to leave and not come back. I would have done it," he said.
Sfeir said he was "a political prisoner" in the kingdom and his captors only questioned him on political issues, including his links to Hezbollah and President Aoun. No charges were pressed, he said.
"My investigator told me that I am making political statements," Sfeir said. "In their system, they don't have such thing. They disapproved."
His whereabouts remained unclear until April 28, when Lebanon's Ministry of Foreign Affairs and Emigrants tried to ask Saudi authorities about him and the reasons for his detention.
Sfeir said he was the victim of an online smear campaign that used his old tweets and TV comments, which he claimed were misrepresented to appear offensive to Saudi Arabia.
He said the alleged smear campaign was launched after he posted a picture of himself receiving a vaccine in the kingdom, which sparked outrage among Saudi social media users, who thought he did not deserve and called on authorities to expel him.
"Social media and electronic flies (armies) are ruining things," the Lebanese composer said. "They asked me many questions… They said, I am not allowed to be offensive to any Arab country."
Sfeir is known for his political statements in the media and on other platforms to criticize opponents of Aoun, and has expressed his unwavering support to Hezbollah as a defender of Lebanon's unity.
Some Lebanese media outlets reported that Sfeir was also questioned about his political tweets criticizing Saudi Arabia and mocking its war against Yemen.
The military aggression has left hundreds of thousands of Yemenis dead, and displaced millions more. The Saudi war has destroyed Yemen's infrastructure and spread famine and infectious diseases across the Arab country.
Sfeir's detention raised concerns at home that he was the latest victim of rising tension between Lebanon and Saudi Arabia.
Earlier this month, Lebanon's caretaker Foreign Minister Charbel Wehbe stepped down from office, shortly after he angered the kingdom and its allies in the Persian Gulf region by blaming them for the rise of the Takfiri Daesh group in Syria and Iraq.
Wehbe handed in his resignation on May 19 as he met Aoun at the Presidential Palace, Lebanon's official National News Agency reported at the time.
Last month, Saudi Arabia announced the suspension of fruit and vegetable imports from Lebanon, claiming shipments were being used for drug smuggling.
Nasser Qandil, editor-in-chief of Lebanon's al-Binaa newspaper, told Press TV at the time that the actual reason behind the prohibition was "political motivation," saying if Riyadh actually wanted to fight drug trafficking it could easily act through its ambassador in Beirut and contact the relevant Lebanese officials.
Saudi authorities, who are seeking new allies in Lebanon, have imposed sanctions on Hezbollah, and brutally cracked down on supporters of the resistance movement in the kingdom.