Saudi Arab
Saudi Arabia launches massive arrest campaign against activists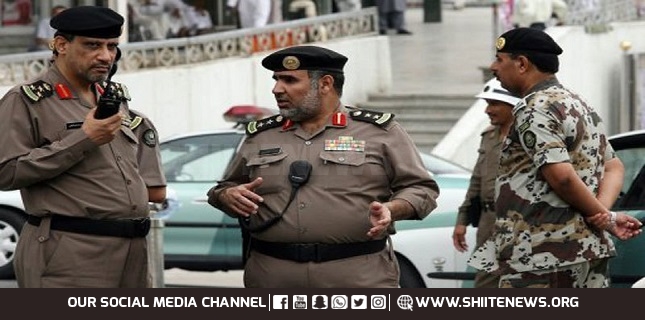 Saudi authorities have launched a new round of massive arrest campaign against media activists and human rights campaigners, exploiting the world's focus on the global coronavirus pandemic, a rights group says.
The rights group Prisoners of Conscience, which is an independent non-governmental organization seeking to promote human rights in Saudi Arabia, announced in a post on its official Twitter page that Saudi officials have launched a wide arbitrary detention campaign.
In separate posts on Twitter, the rights group identified some of the dissidents detained as PhD student Majid al-Ghamdi as well as social media activists Mohammad al-Judayee and Mansoor al-Rokibah.
Human rights groups that monitor the kingdom say Saudi Arabia's long-running drive to muzzle dissent and intellectuals has escalated recently.
On February 24, Arabic-language al-Khaleej Online news website, citing a post published by Prisoners of Conscience, reported that Saudi officials had detained the former director general of the state-owned Saudi Broadcasting Authority (SBA), Dawood al-Shiryan.
Shiryan had purportedly gone missing since the beginning of the current month.
According to the rights group, the renowned Saudi journalist was relieved of his position as head of the SBA last September.
In March 2019, the Saudi SBC channel announced the suspension of the "With Dawood" program presented by Shiryan himself only after six episodes were aired.
The program discussed social issues, most notably runaway girls, slums and an episode on foreign women married to Saudis, and vice versa.
Some critics took to Twitter and argued that Shiryan had publicly exposed the ills of the society.
Since Mohammed bin Salman became Saudi Arabia's de facto leader in 2017, the kingdom has arrested dozens of activists, bloggers, intellectuals and others perceived as political opponents, showing almost zero tolerance for dissent even in the face of international condemnations of the crackdown.
Over the past years, Riyadh has also redefined its anti-terrorism laws to target activism.
In January 2016, Saudi authorities executed Shia cleric Sheikh Nimr Baqir al-Nimr, who was an outspoken critic of Riyadh. Nimr had been arrested in Qatif, Eastern Province, in 2012.
Eastern Province has been the scene of peaceful demonstrations since February 2011. Protesters have been demanding reforms, freedom of expression, the release of political prisoners, and an end to economic and religious discrimination against the region.
The protests have been met with a heavy-handed crackdown by the regime, with government forces increasing security measures across the province.
-arrest campaign against activists