Saudi Arab
Lindsay Lohan's Father Confirms his Daughter Relationship with Saudi Crown Prince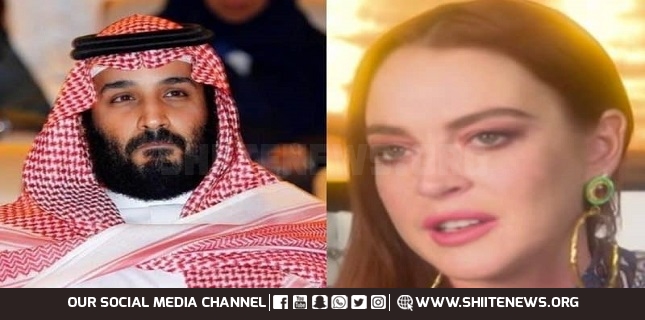 Lindsay Lohan's dad Michael affirmed that his daughter is indeed on good terms with the Crown Prince of Saudi Arabia, Mohammad bin Salman (MbS), but insisted that they aren't having a secret affair despite wild rumors claiming the pair have gotten close and are engaged in a love story.
The US celebrity's father stated that his daughter has a "platonic and respectful relationship" with MbS, following speculation that the pair were romantically involved with MbS allegedly lavishing the superstar with expensive gifts.
Page Six recently reported on a wild rumor was spreading that the 33-year-old actress and MbS had become close and that they've been regularly texting while the Saudi ruler has been flying the Lohan around in his jets and showering her with presents — including a gift-wrapped credit card.
"They are just friends, Lindsay has a lot of powerful friends in the Middle East, because she is huge out there. Lindsay met MbS because of the work she has been doing in the Middle East. She is working to help people in the region, particularly refugees," the dad claimed.
The next in line to the throne has denied ordering the murder of American journalist Jamal Khashoggi despite a UN investigator finding "credible evidence" of his involvement.
When asked if he is concerned that Lindsay is spending time with someone accused of imprisoning members of his own family and ordering the murder of the prominent journalist, Lohan claimed that "none of that has proven to be true".
"Lindsay says he's a good person," the father continued, noting, "She feels safe, she has good people around her, and she knows how to conduct herself."
The CIA has concluded with "medium to high confidence" that Khashoggi, who entered the Saudi consulate in Turkey Istanbul in early October 2018, and was never seen again, was tortured and murdered on orders coming from MbS. But despite media outrage and pressure from US lawmakers to cut off weapons sales to Riyadh, President Donald Trump is sticking by the embattled Saudi prince, and has cast doubt on the CIA's conclusions.
One respected Middle Eastern scholar remarked to Page Six, "It is astonishing that America's closest ties to MbS are through Lindsay Lohan and [Trump's senior adviser and son-in-law] Jared Kushner."
Representatives of Lindsay Lohan have previously denied rumours about the two spending a lot of time together, insisting that they met only once at a Formula One Grand Prix race. Her reps also denied suggestions that Lohan had received expensive gifts from the Saudi royal figure, such as a "gift-wrapped credit card".
Lindsay Lohan has had numerous legal trouble in recent years, including arrests for drunken driving, reckless driving and shoplifting. She has also entered rehab several times to recover from alleged alcohol and cocaine abuse.
In 2017, rumors emerged that she could have converted to Islam, following a photoshoot in a "burquini" made in Thailand, but these were also dismissed by Lohan's representatives.