Palestine
Israeli Warplanes Launch 3 Raids on Gaza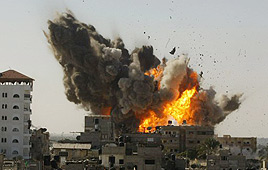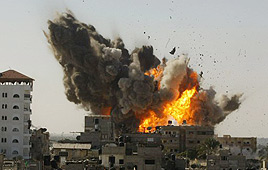 Israeli warplanes flew three raids against the Gaza Strip overnight wounding one person, witnesses and Palestinian medical officials said Friday.
A Palestinian man was hurt when the planes attacked the town of Rafah, in the southern part of the territory close to the border with Egypt.
Nobody was wounded in the two other raids on the former airport, also in the south, and the town of Beit  Hanun in the north.
An Israeli military spokesman confirmed the raids to AFP. "Our planes attacked an armory in the north of the Gaza Strip and two tunnels used for gun running in the south" from Egypt, she said.
"The raids are a reaction to the shelling Thursday from the Gaza Strip of the western sector of the Negev desert" in southern Israel, she added.
On Thursday evening, a Qassam rocket exploded near a kibbutz north of the Gaza Strip, shortly after two mortar shells exploded south of a kibbutz in Shaar Hanegev Regional Council.
A total of nine mortar shells and one rocket were fired at the occupied territories on Thursday, causing no injuries or damage.