Palestine
20 dead as Israel forces storm Freedom Flotilla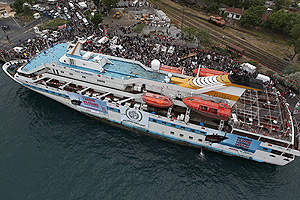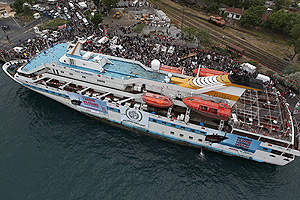 At least 20 passengers have been reported dead and over 60 wounded on Monday when Israeli forces stormed Freedom Flotilla (a boat carrying pro-Palestinian activists bound for Gaza). while Israel carefully censors reports on the casualties from the attack. Director of Pakistan Private TV Channel Talat Hussain along with his team members is onboard, whose where about could not be known.
Hamas's run Al Aqsa television said up to 20 passengers had been martyred, of whom nine were Turkish nationals. Gaza Freedom Flotilla came under fire early on Monday by Israeli navy forces in international waters more than 150km (90 miles) off the coast of Gaza.The six-ship aid fleet was soon stormed by commandos descending from helicopters.
At least 20 people were killed in the takeover of the Gaza aid convoy, al-Aqsa TV channel reported, saying that more than 50 people, including leader of the Palestinian Islamic Movement Sheikh Raed Salah, were wounded in the attack. 
Turkey's foreign ministry warned that the raid on the Flotilla, which included Turkish vessels, may lead to "irreparable consequences" in bilateral ties.
"We strongly condemn these inhumane practices of Israel," a written statement said. "This deplorable incident, which took place in open seas and constitutes a fragrant breach of international law, may lead to irreparable consequences in our bilateral relations," it said.
The Islamist Hamas movement which controls the Gaza Strip on Monday urged Arabs and Muslims to "rise up" in front of Israeli embassies across the globe in protest against Israel's deadly raid.
Palestinian president Mahmud Abbas slammed the killings as "a massacre", while Arab League chief Amr Mussa said the raid was a "crime" against a humanitarian mission.
The Israeli military censor ordered a block on all information regarding those injured or killed during the storming of the ship.
Gaza's Al-Aqsa television showed footage of black-clad Israeli commandos descending from helicopters and clashing with activists, as well as several wounded people lying on the deck of the ship.
The ships, carrying more than 700 passengers, were on the last leg of an aid mission to deliver some 10,000 tonnes of supplies to Gaza, which has been under a crippling Israeli blockade since 2007. Hamas reacted angrily to the deadly raid.
"We call on all Arabs and Muslims to rise up in front of Zionist embassies across the whole world," said Hamas spokesman Sami Abu Zuhri, using the Arabic word  'intifada'.
Ismail Haniya, the Islamist movement's prime minister in Gaza, slammed the "ugly attack" in a statement in which he called for "the United Nations to protect the activists" Â on board the boats.
The boats had started heading towards Gaza from international waters of Cyprus at 3:00pm (1200 GMT) Sunday, with organisers saying they hoped to enter Gaza 
waters during the daylight hours.
About six hours after their departure, three Israeli missile boats left their naval base in the northern coastal city of Haifa on a mission to intercept the flotilla, reporters on 
board one of the vessels said before being told to turn off their phones.