Palestine
Dozens of Palestinians injured in 'day of rage' in support for Jerusalem al-Quds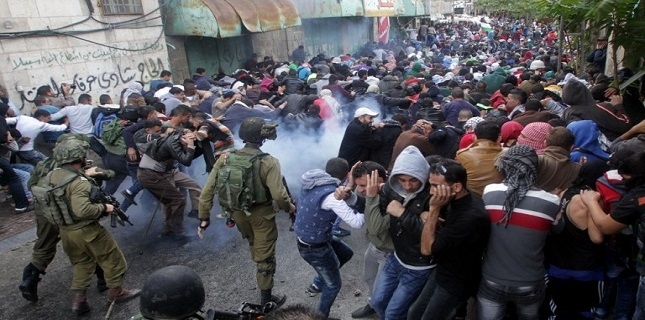 Dozens of Palestinians have sustained injuries and suffered tear gas inhalation during clashes with Israeli military forces as thousands of people stage demonstrations throughout the occupied West Bank and the besieged Gaza Strip in protest at US President Donald Trump's recognition of Jerusalem al-Quds as Israel's capital.
Skirmishes broke out between Palestinian protesters and Israeli troops in the Bab al-Zawiyah area of the southern West Bank city of al-Khalil (Hebron) on Wednesday as demonstrators expressed their resentment over Washington's decision to veto an Egyptian-drafted resolution on the status of Jerusalem al-Quds, Arabic-language Ma'an news agency reported.
Clashes also erupted in the city of Halhul, located five kilometers (3.1 miles) north of al-Khalil.
The Palestine Red Crescent Society reported that its medics provided medical treatment to two protesters. One of them had been struck and injured with a tear gas canister, while another had inhaled an excessive amount of tear gas.
One protester was injured by a rubber-coated steel bullet, and five others suffered tear gas inhalation at Qalandiya checkpoint.
Clashes also broke out between the young Palestinian protesters and Israeli forces, prompting the latter to fire rubber bullets and gas bombs to disperse the crowd.
Palestinians also staged anti-US rallies in East Jerusalem al-Quds' Kafr 'Aqab neighborhood and the cities of Bethlehem, Nablus and Salfit.
Additionally, demonstrators staged a rally from Saraya Square to the Unknown Soldier Square in Gaza City, burning the American flag and chanting slogans against US and Israeli officials.
Khalid al-Batsh, a senior official of the Palestinian Islamic Jihad Movement and the Gaza chairman of the Freedom Committee, called on Arab states to expel US ambassadors from their countries, and sever all trade, security and military ties with the United States and Israel.
"Today, America is presenting itself as the bitter enemy of Palestinian people and Arab nations," Mohammed al-Ghoul, a member of the political bureau of the Popular Front for the Liberation of Palestine, commented.