Palestine
Israeli troops detain two Palestinian teenage girls at gunpoint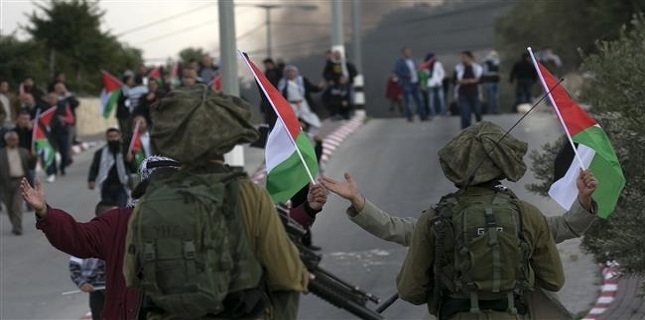 Israeli forces have been caught on camera arresting two Palestinian teenage girls at gunpoint from inside an ambulance amid angry protests and clashes in the occupied Palestinian territories over a controversial US declaration on Jerusalem al-Quds.
The video, which has gone viral on social media, shows a group of Israeli troops stopping a Palestinian Red Crescent ambulance in the town of Halhul in the southern occupied West Bank.
The forces are seen jumping into the vehicle and pulling two people out after verbal and physical confrontations.
The Palestinian Ma'an news agency said locals identified the two as Palestinian teenage girls, who were later handcuffed and taken away.
Tensions have been running high in the occupied West Bank and the Gaza Strip since December 6, when US President Donald Trump defied international warnings and said Washington was recognizing Jerusalem al-Quds as the "capital" of Israel.
The US president also said his administration will being work to prepare for the relocation of Washington's embassy from Tel Aviv to al-Quds.
Trump's move on Jerusalem al-Quds, whose status is at the center of the decades-long Israeli-Palestinian conflict, angered the Palestinian people and the entire world community, including the US and Israel's own allies.
Since last week, Palestinians in the occupied West Bank and Gaza have been holding daily protests rallies against the US and Israel.
Most of the protests have been met with a fierce response by Israeli forces, who use tear gas, rubber bullets and stun grenades to disperse the protesters.
The regime's forces have also made dozens of arrests amid clashes with Palestinians across the West Bank.
Reports say four Palestinians have been killed and some 1,778 others injured different parts of the West Bank, East Jerusalem al-Quds and Gaza in recent days.