Palestine
Two killed, 25 injured as Israeli air strike, artillery shells hit Gaza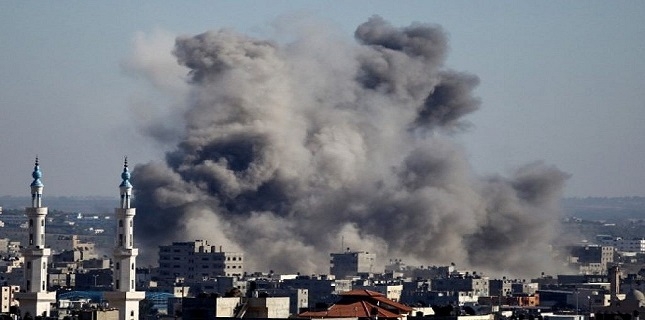 At least two Palestinians have been killed and over two dozen injured in Israeli artillery and air strikes against the besieged Gaza Strip, amid escalating tensions in the occupied territories in the wake of the US president's recognition of Jerusalem al-Quds as the Israeli capital.
Israeli forces fired artillery shells at a checkpoint belonging to Palestinian resistance forces in the northeast of the town of Beit Hanoun, northern Gaza, on Friday night.
An Israeli jet also targeted a group of resistance fighters in the east of Beit Hanoun, the Palestinian Information Center said, adding that they survived the air strike.
Palestinian sources said Israel also carried out an air strike on the town of Beit Lahia.
Three Israeli rockets were fired at Shaikh Zayed area in northern Gaza.
Reuters cited the Palestinian Health Ministry a saying that 25 Palestinians, including six children, were injured in the attacks.
On Saturday, the Hamas Health Ministry in Gaza said the bodies of two young men were recovered several hours after a pre-dawn strike by Israeli warplanes.
Tel Aviv claimed that Palestinian resistance forces had fired a number of rockets at an Israeli military position.
On Friday, clashes broke out between Israeli forces and Palestinians protesting against the recent decision by US President Donald Trump to recognize the occupied Jerusalem al-Quds as the capital of Israel despite widespread international opposition to the measure. Trump announced his decision on Wednesday. He said Washington would relocate the US embassy in the occupied lands from Tel Aviv to Jerusalem al-Quds.
In reaction to the announcement, Palestinians staged rallies across the West Bank, Jerusalem al-Quds, and Gaza.
Meanwhile, the Palestinian Health Ministry said Mahmoud al-Masri, 30, was shot to death by Israeli forces in Gaza's southern city of Khan Yunis on Friday.
On Thursday, the Israeli military said an aircraft and a tank had targeted two security posts in Gaza. The attack in the late hours of the day had no casualties.
Jerusalem al-Quds remains at the core of the Israeli-Palestinian conflict.