Palestine
Israeli forces shoot, injure Palestinian man in West Bank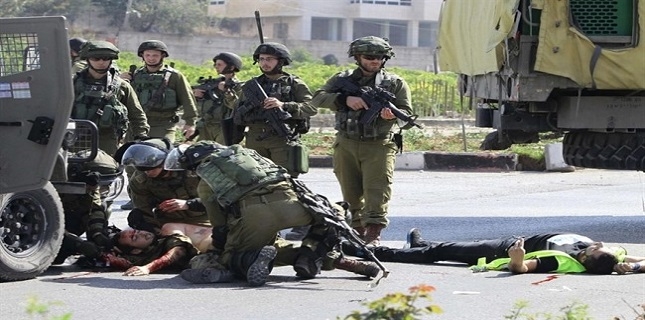 The Tel Aviv regime forces have shot and injured a Palestinian man during clashes between local villagers and Israeli settlers in the occupied West Bank.
The Palestinian Health Ministry confirmed on Monday that the man with chest injuries was brought to Rafidya hospital in Nablus in serious condition and was admitted to the operating room.
Local sources said that the man was shot by Israeli forces near the settlement of Migdalim in the Palestinian village of Qusrah, which is located south of Nablus.
Ibrahim Wadi, a local activist, told Palestinian WAFA news agency that clashes erupted between Israeli forces and villagers after settlers came to the village and provoked the residents.
Israeli troopers fired live ammunition and tear gas canisters to disperse the villagers, causing injuries and various suffocation cases.
An Israeli army statement said that its troops had "responded by using crowd-control means in order to disperse the riot."
A series of clashes have erupted in recent days across the occupied region after a settler shot dead a Palestinian last Thursday. The 48-year victim, identified as Mahmoud Zaal Oudah, was killed while working on his farm close to Qusrah.
The occupied Palestinian territories have witnessed new tensions ever since Israeli forces introduced restrictions on the entry of Palestinian worshippers into the al-Aqsa Mosque compound in East Jerusalem al-Quds in August 2015.
More than 300 Palestinians have lost their lives at the hands of Israeli forces in the ongoing tensions since the beginning of October 2015.
Israel occupied the entire West Bank, including East Jerusalem al-Quds, during full-frontal military operations in 1967. It later annexed the territories, which were never recognized by the international community.
Upon annexation, Israel began propping up the settlements, deemed as illegal by the international community due to their construction on occupied territory.
In December 2016, the United Nations Security Council adopted Resolution 2334 that denounced Israeli settlement construction as a "flagrant violation of international law."