Palestine
3 Palestinians killed in Jerusalem al-Quds shooting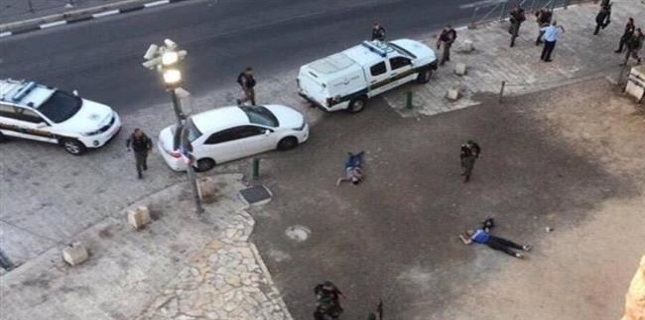 A shooting incident in the Old City of Jerusalem al-Quds has left at least three Palestinians dead, besides leaving other casualties.
The incident took place on Friday morning close to Haram al-Sharif (Temple Mount), Reuters reported, citing the Israeli police.
The Israeli police claimed the Palestinian fatalities comprised "attackers," who had fired at its forces before being shot themselves.
There have been conflicting reports of casualties on the Israeli side.
Israeli police said three of its forces have been wounded, two of them critically, but Palestinian media reported the deaths of two Israeli forces.
Sources also reported the apprehension of four Palestinian females at Bab al-Asbat (Lions' Gates) in al-Quds' Old City Walls, without characterizing the nature of the arrests.
The police announced the closure of the al-Aqsa Mosque compound in East al-Quds and prohibition of Friday prayers amid the tensions.
Haram al-Sharif is home to the al-Aqsa Mosque and the Dome of the Rock. The site is holy to both Muslims and Jews.
According to an agreement signed between the Tel Aviv regime and the Jordanian government — which administers Al-Aqsa Mosque — after Israel's occupation of East Jerusalem al-Quds in 1967, visits to the compound by Israelis are permitted but non-Muslim worship is prohibited.
The occupied territories have already been the scene of increased tensions ever since Israeli forces imposed restrictions on the entry of Palestinian worshipers into the al-Aqsa Mosque compound in East Jerusalem al-Quds in August 2015.
Over 300 Palestinians have been killed by Israeli force since October that year, when the clashes intensified.
Separately, the Palestine al-Yawm news agency said a Palestinian youth, named as 17-year-old Bara' Hamamdah, had been killed in clashes with Israeli forces south of the southern West Bank city of Bethlehem.
Palestinian sources said the confrontation had also injured two other Palestinians.