Palestine
Israel demolishes nine more Palestinian structures in West Bank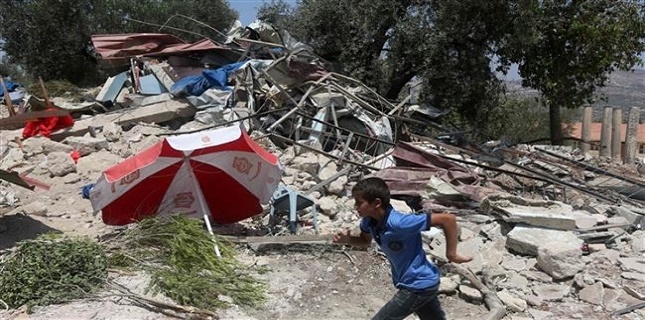 Israeli military forces have demolished nine Palestinian houses and structures in separate parts of the occupied West Bank as the Tel Aviv regime presses ahead with its aggressive policies against Palestinians.
Early on Tuesday, Israeli soldiers destroyed the family home of a Palestinian prisoner over his alleged role in a July 1 shooting attack near the illegal Otniel settlement south of al-Khalil (Hebron), which killed Rabbi Michael Mark and injured his family members.
Witnesses said a large number of Israeli troopers surrounded the house of the Palestinian prisoner, Mohammed Abdulmajdi Abriwash, in the town of Dura, located 11 kilometers (6.8 miles) southwest of al-Khalil, amid clashes with dozens of stone-throwing young Palestinian men, Arabic-language Safa news agency reported.
Israeli forces fired tear gas canisters as well as stun grenades to disperse the protesting crowd.
The witnesses added that Israeli bulldozers tore down the walls of the building, before soldiers drilled holes in the remaining walls to plant explosives and detonate them.
The development came nearly a day after Israeli forces brought down eight Palestinian structures in the Bedouin community of Maazi Jaba in the so-called E1 zone of West Bank.
Local residents said Israeli bulldozers escorted by dozen of soldiers rolled into Maazi Jaba, east of the village of Jaba, at around 7:30 a.m. local time (0430 GMT) on Monday, and demolished six improvised shacks serving as homes, as well as two other structures used to house sheep.
The demolitions reportedly left 28 people, including 18 minors under the age of 16, homeless.
The United Nations Office for the Coordination of Humanitarian Affairs (OCHA) said on August 12 that a total of 726 Palestinian structures had been razed in the occupied West Bank and East Jerusalem al-Quds since January, and the demolitions have affected 1,020 Palestinians.
The structures included houses, shelters for livestock and installations such as solar panels.
The world body said there were 533 demolitions and 688 displaced Palestinians in the entire 2015, meaning that demolitions so far this year have increased more than 36 percent.
The occupied territories have witnessed new tensions ever since Israeli forces introduced restrictions on the entry of Palestinian worshipers into the al-Aqsa Mosque compound in East Jerusalem al-Quds in August 2015.
At least 236 Palestinians have lost their lives at the hands of Israeli forces in the tensions since the beginning of last October. The violence has also killed at least 32 Israelis, two Americans, an Eritrean and a Sudanese.