Palestine
Israeli Fans in France Greeted with Palestinian Flags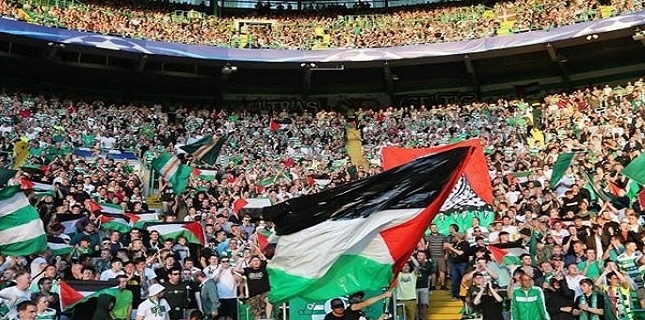 After much talk over the high security risks at Thursday nights Europa League soccer match between St. Etienne and Beitar Jerusalem in France Beitar supporters arrived to the stadium with Palestinian flags.
The few pro-Israeli fans were then greeted with not only French flags but Palestinian flags as well, marking the second time in as many weeks that an Israeli soccer team was greeted abroad with Palestinian flags, Jerusalem Post reported.
Ahead of the game authorities were preparing for a high risk of violence, according to French media.
There was a ban on the sale and consumption of alcohol within a safety zone around the Geoffroy-Guichard stadium as well as a ban of pyrotechnics around the venue.
Security measures had been stepped up ahead of the Europa League soccer match between St. Etienne and Beitar Jerusalem in France on Thursday.
Pro-Palestinian activists have called for a rally outside of St. Etienne's City Hall, using the Israeli team's presence as an opportunity to protest Israeli policies.
There was a known a possibility that St. Etienne's "Green Angels," the French club's fan group, will make their presence at the rally.
"La Familia," Beitar Jerusalem's group of staunch supporters, has drawn condemnation over the years for its extremist outlook. The group is known to foster anti-Arab sentiments.
In July, over 400 police officers performed an operation arresting 47 members of the group on suspicion of intent to bring pyrotechnics to matches and illegal weapons trafficking.
Thursday's measures came after Scotland's Celtic team supporters greeted the Hapoel Beersheba team with Palestinian flags during a match earlier this month, for which the Union of European Football Associations took disciplinary action against the team from Glasgow.