Palestine
Families of slain Palestinians urge Israel to return bodies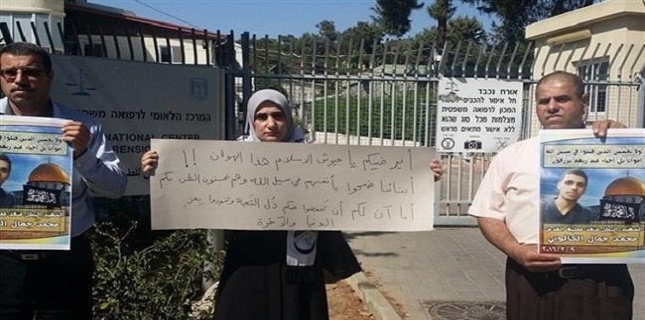 The families of Palestinians killed by Israeli troops have called on Tel Aviv to return the bodies of their loved ones, denouncing the regime's policy of withholding the corpses as "a crime of torture for the dead and the living."
The families converged outside the Abu Kabir Institute of Forensic Medicine in the port city of Jaffa, holding up portraits of their children emblazoned with their names and the dates they were killed.
The protesters carried signs that read "No to collective punishment" and "We want our children," as others raised a white sheet that had the names of all Palestinian bodies currently being held by Israel.
A number of Arab members of Israel's parliament, the Knesset, were among the demonstrators.
"The policy of holding the bodies of killed Palestinians aims to take revenge on the martyr and his family and to break the will of families," Muhammad Baraka, a member of the High Follow-Up Committee for Arab Citizens in Israel, told the crowd.
"Today we are standing near our martyred children and taking part in this sit-in, confirming that we are one nation and that we were not divided by Israel," the father of Bahaa Elayyan, a Palestinian shot dead last October, said.
He added that months have passed since the families' children were killed, but Israeli authorities were refusing to provide any information about the nature of the killings.
The bereaved father also urged international human rights organizations to intervene, and shed light on the circumstances surrounding their children's deaths and the condition of their dead bodies.
"This is a crime of torture for the dead and the living. It is a war crime," he said.
On June 9, Israel's minister of military affairs ordered the bodies of Palestinians killed at the hands of Israeli troops during alleged stabbing and car ramming attacks not to be returned for burial.
Israeli Public Security Minister Gilad Erdan has suggested a complete halt to the return of slain Palestinians.
He has also called for the re-establishment of a cemetery, where Israel used to bury Palestinians during the second Intifada, which claimed about 3,000 Palestinian lives from September 2000 to February 2005.
The occupied Palestinian territories have been the scene of heightened tensions since August 2015, when Israel imposed restrictions on the entry of Palestinian worshipers into the al-Aqsa Mosque compound in East al-Quds.
Al-Aqsa Mosque is the third holiest site in Islam after Masjid al-Haram in Mecca and Masjid al-Nabawi in Medina.
Palestinians are angry at increasing violence by Israeli settlers at the al-Aqsa Mosque compound and their attacks on Palestinian properties, saying the Tel Aviv regime seeks to change the status quo of the sacred site.
Nearly 220 Palestinians have lost their lives at the hands of Israeli forces in what is regarded as the third Palestinian Intifada (uprising) since the beginning of last October.