Palestine
Bibi to Israelis: Stop crying, I lead ops now Ya'alon is gone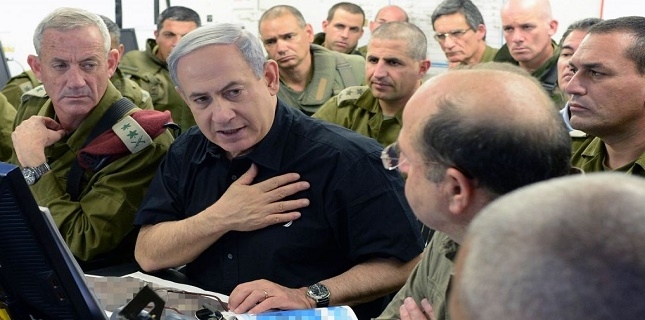 With Moshe Ya'alon having abdicated the post of Israeli minister of military affairs, Prime Minister Benjamin Netanyahu calls on Israelis to stop "crying and moaning," saying he can "lead the operations" himself.
"I, who fought as an officer and soldier… who was in battle and was injured — I see to Israel's security," said the hawkish premier Sunday, the Times of Israel reported.
His comments followed Ya'alon's recent resignation both from the cabinet and the Israeli parliament (Knesset), citing "lack of trust" in Netanyahu.
"I told the prime minister this morning that due to his conduct in recent developments, and in light of my lack of trust in him, I am resigning," Ya'alon (pictured above) said on Friday.
With Foreign Minister Avigdor Lieberman set to take over the military, Bibi made the comments in an attempt to tackle criticism targeting the decision.
Described by the Israeli daily Haaretz as a politician "to whom military DNA is utterly foreign," Liberman (pictured below) has wreaked havoc in Israel by his expected appointment, forcing Netanyahu to tacitly react.
Among his critics is an Israeli military senior reporter, who attacked the decision on live TV recently by saying, "I'm not sure I want my children to remain here."
Another senior member of the Israeli Channel 2 made similar remarks, saying Israel is "not a pleasant place to be."
Netanyahu responded by boasting about his capabilities, saying, "In the end, the prime minister navigates all the operations… It seems I haven't done a bad job in the past two years, and so it will continue now. Responsible, determined, intelligent policies designed to uphold security."
According to the Haaretz, "The prime minister seems certain he knows everything better than his colleagues, whether allies or opponents."
Nicknamed Bogie, Ya'alon once likened Palestine to "cancer."
"There are all kinds of solutions to cancer. Some say it's necessary to amputate organs but at the moment I am applying chemotherapy," he said back in 2002.
Ya'a'on was also an anti-Iran figure and followed Tel Aviv's saber-rattling policies towards Tehran.
"There is no way to stabilize the Middle East today without defeating the Iranian [government]. The Iranian nuclear program must be stopped," Ya'alon said in 2008 before the seven-nation nuclear negotiations that led to the Joint Comprehensive Plan of Action in 2015.
Israel spared no efforts to disrupt talks between Tehran and the world powers — the US, Britain, Russia, China, France, and Germany — which finally yielded the nuclear agreement.