Palestine
Israeli forces kill 2 more Palestinians in West Bank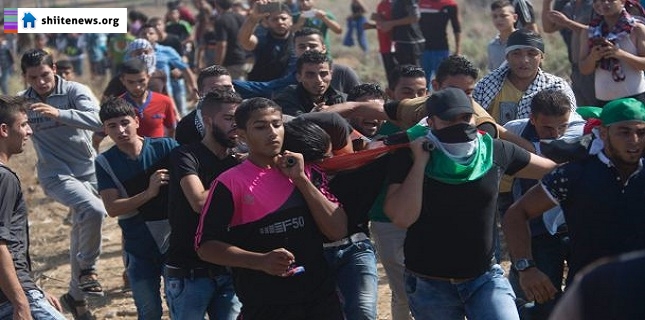 Two more Palestinians have been gunned down by Israeli soldiers in the West Bank as the Palestinian death toll rises amid violence in the occupied territories.
According to media reports, the two were shot on allegations of attacking an Israeli trooper near the Gush Etzion illegal settlement on Tuesday.
Earlier in the day, Israeli forces attacked Palestinian protesters in the occupied West Bank after the funeral procession of a 19-year-old teenager killed on Monday.
The Palestinians who protested across the West Bank city of al-Khalil (Hebron) after the funeral of Eyad Jaradat were met by Israeli forces' live fire and tear gas.
The teenager was shot dead in the clashes between Palestinians and Israeli forces on Monday.
Palestinian factions across al-Khalil have called for the "rally of anger" in solidarity with the families of those killed by Israeli forces on allegations of attacking Israelis.
Hundreds of them rallied in the city, carrying posters with pictures of Palestinians killed in recent weeks.
The demonstrators were angry at the Israeli regime's move to withhold the bodies of 11 Palestinians from al-Khalil killed this month.
Israel refrains from returning the bodies in order to prevent mass protests that usually follow the funerals of Palestinians killed by Israeli forces
According to the Palestinian Health Ministry, at least 60 Palestinians have lost their lives and 7,100 injured at the hands of Israeli forces since the beginning of October.
The Israeli regime's imposition in August of restrictions on the entry of Palestinian worshipers into the al-Aqsa Mosque in East al-Quds (Jerusalem) has triggered the latest wave of tensions in the occupied Palestinian territories.
Palestinians are also angry at increasing violence by illegal Israeli settlers, who frequently storm the al-Aqsa Mosque compound. Palestinians say the Tel Aviv regime seeks to change the status quo of the compound.