Palestine
Hamas' military wing: Israeli enemy searching for 'mirage' at Shifa Hospital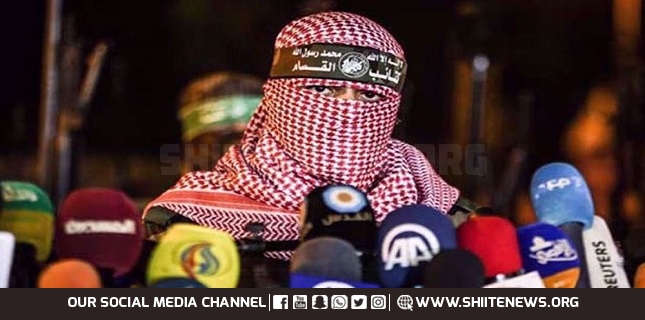 The military wing of the Palestinian resistance movement of Hamas has said that the Israeli regime was searching in vain at al-Shifa, Gaza's biggest hospital, which the regime claims houses a Hamas' "command center."
The regime has attacked the hospital, trapping thousands of patients, premature babies, staff, and displaced people, who have fled there from an October 7-present Israeli war on the besieged coastal sliver.
Speaking on Friday, Abu Ubaida, spokesman for the al-Qassam Brigades, roundly rejected Tel Aviv's claims about the complex, saying, "What [Israeli Prime Minister Benjamin] Netanyahu is looking for at al-Shifa is risible."
He termed the Israeli operation targeting the hospital as a "search for a mirage."
Osama Hamdan, Hamas' senior representative in Lebanon, debunked the regime's allegation concerning the facility by presenting damning footage during a presentation in Beirut on Thursday.
The footage showed that the regime had been funneling weapons that it had seized across various places during the war into the hospital, before claiming that it had found them inside the facility. Playing the footage, Hamdan showed that the regime's forces had been taking the weapons into the facility inside cardboard boxes bearing the label of food aid.
Abu Ubaida called Israel's invasion of the hospital a "[source of] ignominy for the international establishment."
Resistance ready for 'drawn-out defense'
Addressing the issue of the ongoing war, which has so far killed upwards of 12,000 Palestinians, the spokesman said, "We have prepared ourselves for a drawn-out defense."
He expressed certainty that the Gaza-based resistance movements would "force the enemy into beating a retreat across many fronts."
Abu Ubaida, meanwhile, asserted that the death toll imposed by the resistance on the Israeli military so far during the war "is way higher than what the enemy expects."