Palestine
Zionist forces shoot Palestinian photojournalist in head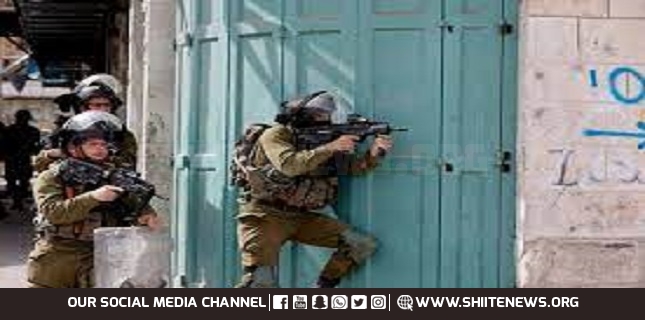 Israeli regime's forces have deliberately shot a Palestinian photojournalist in the head as he was covering the demolition of a Palestinian-owned home during a military raid in the occupied West Bank.
Momen Samreen was hit in the head by a rubber bullet despite wearing press attire in the West Bank city of Ramallah on Thursday, after the Israeli regime's military stormed the area and started to demolish the four-story house of Palestinian prisoner Islam Froukh, displacing its residents, Palestine's official Wafa news agency reported.
Samreen was covering the demolition process when he was shot and transferred to the hospital in serious condition.
Another journalist, Rabie Munir, was also reportedly wounded in the abdomen by rubber bullets shot by Zionist forces during the same operation.
Israeli regime's troops fired tear gas, rubber-coated bullets and live rounds as fierce clashes broke out between Palestinian youth and the regime's forces during the raid.
The Palestinian health ministry said a total of six people were hospitalized after being injured during the confrontations, including three by live rounds.
Over the past months, the Israeli regime has ramped up attacks on Palestinian towns and cities throughout the occupied territories. As a result of these attacks, dozens of Palestinians have lost their lives and many others have been arrested.
Most of the raids have focused on the West Bank cities of Nablus and Jenin, where the Israeli regime's forces have been trying to stifle a growing Palestinian resistance against occupation.
The Israel regime also routinely demolishes Palestinian houses in the occupied West Bank and East al-Quds, claiming that the structures have been built without permits, which are almost impossible to obtain. They also sometimes order Palestinian owners to demolish their own houses or pay the costs of the demolition.
The Israeli regime has already occupied thousands of dunums of Palestinian agricultural land to construct and expand new illegal settler units in various areas in the West Bank.
More than 600,000 Zionists live in over 230 settlements built since the 1967 Israeli occupation of the Palestinian territories of the West Bank and al-Quds.
All Israeli settlements are illegal under international law.