Palestine
Israeli forces kill Palestinian youth near al-Aqsa Mosque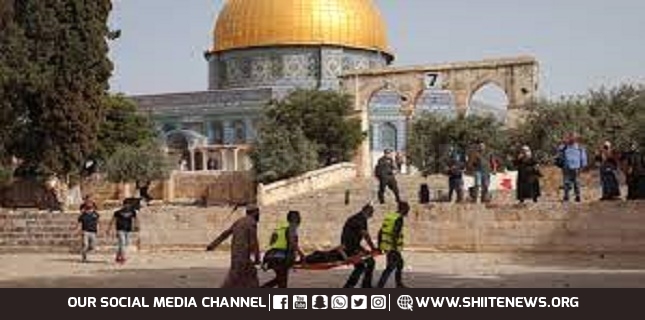 Israeli forces have fatally shot a young Palestinian in front of one of the gates to the al-Aqsa Mosque compound in the occupied Old City of al-Quds as the occupying regime ramps up violence against Muslim worshipers in the fasting holy month of Ramadan.
The Palestinian media said the young man, identified as Muhammad al-Osibi, was killed on Friday evening near the Chain Gate, one of the entrances to the al-Aqsa Mosque compound.
Eyewitnesses said gunfire was clearly heard from inside the mosque and that the young man was shot dead as he tried to protect a Palestinian girl who was being prevented by troops from entering the holy site and assaulted at the Chain Gate.
"The Israeli forces opened fire on 26-year-old Osibi, from the Bedouin town of Hura in the occupied Negev, after a fight with one of them as they assaulted a girl in the place," the Palestinian Safa news agency said.
After the shooting, the Israeli military closed the doors of al-Aqsa Mosque and mobilized a large number of its forces in the courtyards of the mosque, and imposed restrictions in the Old City.
Palestine's Shehab news agency cited Israeli sources as confirming that the man was shot while trying to protect the Palestinian woman.
"He was shot and critically wounded, as a result of which he died," Shehab added.
Hebrew-language newspaper Yedioth Ahronoth said the Israeli police assaulted a number of worshipers at al-Aqsa Mosque near the Chain Gate, including a girl, resulting in a quarrel between the young man and police officers who fired directly at him.
Thousands of Muslim worshipers crossed Israeli military checkpoints deployed early on Friday morning before arriving at al-Aqsa Mosque for the second Friday prayers of Ramadan.
Since the start of the holy month, the Israeli regime has imposed strict restrictions on the entry and exit of Palestinians to and from the gates of the al-Aqsa Mosque. Footage from some of the gates showed Palestinians scuffling with Israeli forces who blocked the gates. A number of Palestinians were arrested at the scene.
Amid heightened tensions with Palestinian worshipers, Israeli settlers also press ahead with their frequent incursions and provocative rituals at the holy site.
Hardline Israeli legislators and settlers regularly storm the al-Aqsa Mosque compound in the occupied city, a provocative move that infuriates Palestinians. Such mass settler break-ins almost always take place at the behest of Tel Aviv-backed temple groups and under the auspices of the Israeli police in al-Quds.
The al-Aqsa Mosque compound, which sits just above the Western Wall plaza, houses both the Dome of the Rock and the al-Aqsa Mosque.
The Jewish visitation of al-Aqsa is permitted, yet non-Muslim worship at the compound is prohibited according to an agreement signed between Israel and the Jordanian government in the wake of Israel's occupation of East al-Quds in 1967.