Palestine
Victims of Israeli raids on Jenin reach to 9 killed, dozen injured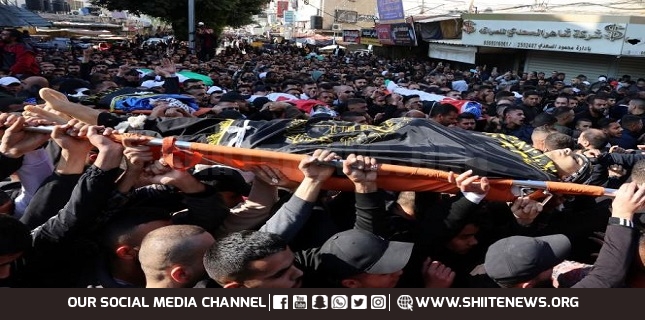 Three Palestinians were killed overnight near Jenin and the number of the latest attacks Israeli raids on Jenin in the West Bank reached 9 people.
Three Palestinians were killed overnight in the town of Jaba, near Jenin, according to Israeli media.
They were attacked in their vehicle while Israeli military radio claimed that the Palestinians were shooting at Israeli security forces who returned fire.
No Israeli side was injured in the incident.
on Wednesday, Israeli forces killed at least six Palestinians and wounded 11 others during a raid in the occupied West Bank city of Jenin, according to the Palestinian Authority's health ministry.
Two of the wounded people had serious injuries, the ministry said in a statement on Tuesday.
On Thursday people in Jenin pour into the streets to attend at the funeral ceremony of six Palestinian martyrs.
On Wednesday, a house was besieged by Israeli forces and hit with rockets. Footage circulating on social media showed helicopters over a column of military vehicles entering the city.
Another raid by Israeli forces was also carried out on Tuesday evening in another refugee camp south of Nablus.
Violence raged when overnight on Monday, Israeli settlers attacked Palestinians in the village of Huwara, the scene of a violent rampage last week by dozens of settlers seeking revenge for the shooting of the two Israelis as they sat in their car.
Settlers have killed at least five Palestinians in 2023 so far, while Israeli forces have killed at least 68 Palestinians this year.
In the same period, 13 Israelis and one Ukrainian woman have been killed in apparently uncoordinated attacks.