Palestine
Hamas appreciates Iran for supporting Palestinian Resistance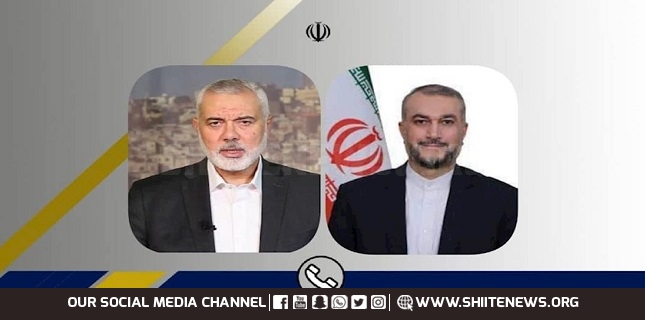 The head of the political bureau of the Palestinian Islamic Resistance Movement (Hamas) has appreciated Iran for its consistent and principled support of the Palestinian Resistance.
In a telephone conversation with Hossein Amir-Abdollahian, the Foreign Minister of the Islamic Republic of Iran on Sunday evening, Ismail Haniyeh discussed the latest developments in Palestine and the recent conflicts in the occupied territories.
Haniyeh, while emphasizing the continuation of resistance against the Zionist regime, considered the Palestinian Resistance as the right and only solution for the Palestinian nation in facing the crimes of the occupying regime in order to liberate the Palestinian land.
Haniyeh stressed the necessity of uniting the Islamic Ummah against the Zionist enemy and thwarting its plots.
For his part, Iran's foreign minister condemned the crimes of the Zionist occupation, praising the Resistance and heroic retaliatory operations of the Palestinians against the Zionist regime.
Amir-Abdullahian considered the recent crimes committed by the Zionists in Jenin as a sign of the tyranny of the occupiers, saying that the Resistance is the legitimate right of the Palestinian nation to defend itself.