Palestine
Israeli forces kill nine Palestinians during violent raid on Jenin refugee camp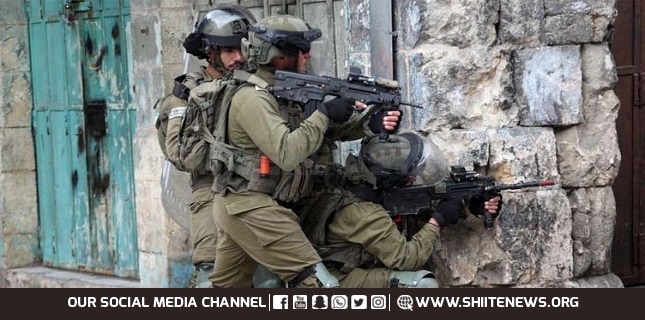 Israeli forces have shot and killed at least nine Palestinians and wounded over a dozen others during a violent raid on the Jenin refugee camp in the northern West Bank, as tensions continue to escalate across the occupied territories.
Palestinian media outlets reported that Israeli forces stormed the flashpoint city and the neighboring refugee camp with more than 70 armed vehicles on Thursday, triggering violent confrontations with local residents.
Israeli snipers were also deployed on rooftops, and heavily-armed soldiers opened fire towards Palestinian youths who attempted to block their entry.
Palestinian President Mahmoud Abbas's office condemned the killings as "a massacre" committed by the Israeli occupation forces "in the shadow of international silence."
In a statement, the Palestinian Health Ministry identified one of the victims as 24-year-old Saeb Essam Mahmoud Azriqi, adding that an elderly woman was also among the dead.
According to the ministry, Azriqi was rushed to a local hospital in critical condition after being shot in the chest, and later succumbed to his wounds.
The identities of the other fatalities were not immediately known.
The ministry further noted that 13 others were also injured by live ammunition, including three with critical wounds.
In a separate statement, Palestinian Health Minister Mai al-Kaila said Israeli troops have attacked Jenin Hospital and deliberately fired tear gas canisters at the hospital's pediatric department, causing suffocation for children.
Kaila went on to say that she has called for an urgent meeting with the International Committee of the Red Cross (ICRC) and the World Health Organization (WHO) to bring an end to the Israeli aggression, save the lives of Palestinians and prevent further bloodshed, while urging the international human rights organizations to immediately intervene to help rein in Israeli military practices.
Reports say clashes are ongoing between Palestinian youths and the regime's forces in the camp. Israeli troops have barred medical emergency teams from reaching the area and have also disconnected the power supply to the camp.
The latest killings bring the total number of Palestinians killed in Israeli fire so far in 2023 to 28, including five children.
Over the past months, Israel has ramped up attacks on Palestinian towns and cities throughout the occupied territories. As a result of these attacks, dozens of Palestinians have lost their lives and many others have been arrested.
Most of the raids have focused on Nablus and Jenin, where Israeli forces have been trying to stifle a growing Palestinian resistance in the occupied cities.
The United Nations marked 2022 as the deadliest year for Palestinians in the West Bank in 16 years.
Israeli forces killed at least 171 Palestinians in the West Bank and occupied East al-Quds last year, including more than 30 children. At least 9,000 others were injured as well.