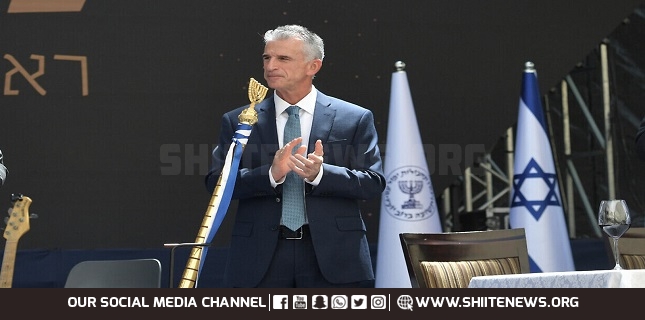 The head of the national spy agency of Israel says that the entity will not comply with any nuclear agreement between Iran and world powers, stating that even if the deal is signed, Mossad will continue to carry out operations inside Iran.
In his first public speech since assuming his position as chief of Israeli Mossad in June 2021, Director David Barnea said on Monday, "The nuclear talks are not a restraining factor in any way."
Barnea renewed the Zionist regime's allegations that Iran aims to build a nuclear weapon, a claim that Iran has repeatedly denied. At the same time, the IAEA and other organizations found no evidence of following onsite inspections.
Pursuing the Israeli frenzy over Iran's nuclear deal, Barnea said Israel would not participate in what he dubbed the "charade" of a renewed nuclear deal between world powers and Iran, warning that the emerging agreement would "not provide immunity" for Tehran from the spy agency's operations, completely slamming international efforts in the course of a lasting nuclear deal.
The United States, under former President Donald Trump, abandoned the JCPOA in May 2018 and reinstated unilateral sanctions that the agreement had lifted under what he called the "maximum pressure" policy against Tehran.
The talks to salvage the agreement kicked off in the Austrian capital city of Vienna in April last year, months after Joe Biden succeeded Trump, with the intention of examining Washington's seriousness in rejoining the deal and removing the anti-Iran sanctions.
Despite notable progress, Washington's indecisiveness has postponed reaching an agreement between the negotiating parties.
Barnea also claimed that Mossad thwarted attacks against Israelis in several countries, most recently in Turkey, an accusation that Iran labeled as fabrications and lies lacking profound evidence.
Iran objected to those allegations, stating that "Israel" is attempting to sabotage Tehran-Ankara relations and divert regional attention from Palestine.
On a visit to Washington days ago, as part of Israeli Prime Minister Yair Lapid's pressure campaign to deter the US from signing a nuclear deal with Iran, chief of Mossad David Barnea warned his US counterparts against signing the deal.
This is not the first time that an Israeli top official openly attacked the nuclear deal with Iran and declared that "Israel" is not obliged by the UN-sponsored agreement and will carry out operations against Iran regardless of the deal.
During an official visit to France last August, Israeli Prime Minister Yair Lapid told French President Emmanuel Macron that "Israel" won't be bound by a nuclear deal if one is reached. "The PM made clear to the president that Israel opposes a return to the deal and would not be obligated by such an agreement. Israel will continue to do everything to prevent Iran from attaining a nuclear capability," as per Lapid's office.