Palestine
Palestinian fighters exchange fire with Israeli forces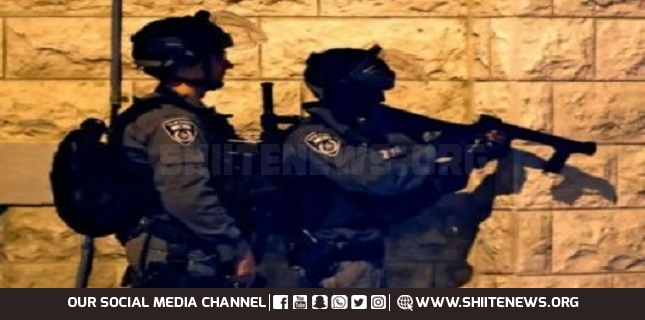 Palestinian resistance fighters have reportedly exchanged fire with Israeli forces in several Israeli military positions in the occupied West Bank.
Israeli media reports said Palestinian fighters fired shots at a pillbox post north of the Israeli settlement of Ofra on Sunday night.
Nearly an hour later, Palestinians opened fire on Israeli forces near the town of Silwad, northeast of Ramallah, as an exchange of fire took place in the area.
Moreover, Palestinian fighters also opened fire on Israeli forces near Nablus.
The operations reportedly caused no casualties, but an Israeli soldier was injured by rocks hurled by Palestinians near al-Nabi Saleh village.
The Palestinian resistance movement Hamas hailed the shootings, praising "hands" that confront the Israeli crimes and its desecration of al-Aqsa Mosque.
On Monday, Israeli forces stormed the occupied West Bank town of Qabatiya, South of Jenin, and surrounded the house of former detainee Alaa Omar Zakarneh before arresting him.
The raid reportedly sparked clashes with Palestinian resistance fighters in which 11 Palestinians were wounded.
Palestinian fighters have stepped up their acts of resistance against Israeli forces in the West Bank and al-Quds over the past months amid intensified crimes committed by Israeli forces and settlers against Palestinians and their properties.
Palestinians are outraged by rising settler attacks, backed by Israeli forces, on their villages.
Incidents of sabotage and violence by settlers against Palestinians and their property have become a daily occurrence throughout the occupied territories, particularly in the West Bank.
However, Israeli authorities rarely prosecute the settlers, and the vast majority of the files are closed due to deliberate police failure to investigate properly.
Settler violence includes property and mosque arson attacks, stone-throwing, uprooting of crops and olive trees, and attacks on vulnerable homes, among others.
In recent weeks, Israel has ramped up attacks on Palestinian towns and cities throughout the occupied territories. As a result of these attacks, dozens of Palestinians have lost their lives and many others have been arrested.