Palestine
Thousands attend funeral for two Palestinian youths killed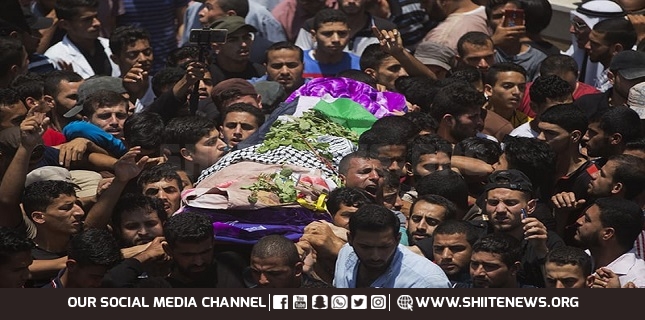 Thousands of Palestinians attended a funeral procession on Sunday for two Palestinian youths killed by Israeli security forces during a raid in the West Bank city of Nablus.
Israeli forces killed two Palestinians and injured more than a dozen others in the occupied West Bank cities of Nablus and Jenin early on Sunday.
According to the Palestinian Ma'an news agency, Aboud Sobh, 29, and Muhammad Al-Azizi, 22, died in Rafidia Hospital in Nablus after being seriously injured during clashes with Israeli forces.
At least 19 other people were hospitalized, with one of them suffering serious gunshot wounds in the head.
The violent clashes occurred after Israeli forces and their vehicles stormed Nablus from several directions and surrounded the Al Yasmina neighborhood in the Old City.
The occupation forces also deployed several snipers on the roofs of buildings in the Ras al-Ain area, firing bullets and rocket-propelled grenades.
The Israeli soldiers were, however, forced to withdraw from the West Bank city after a three-hour raid, with Palestinian medics and ambulances rushing to the area to attend to the casualties.
Israeli forces were also reported to have had clashes with Palestinians after storming the flashpoint city of Jenin.
Palestinian authorities announced a day of national mourning in Nablus following the martyrdom of the two young men.