Palestine
Palestinian teenage arrested by Israeli forces in occupied East al-Quds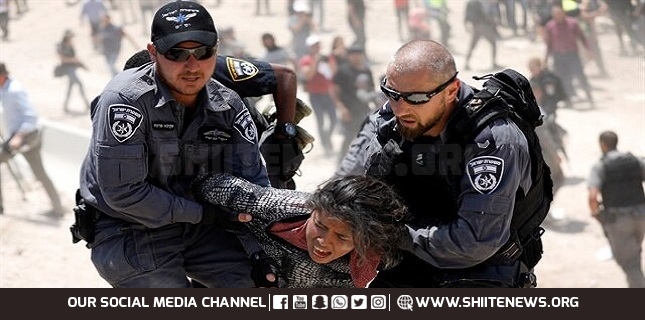 Israeli forces have arrested a Palestinian teenage girl in the occupied East al-Quds over an alleged stabbing attack against a settler.
Israeli police claimed in a statement that a settler was stabbed in the back and lightly wounded at the entrance to the flashpoint Sheikh Jarrah neighborhood in East al-Quds on Wednesday morning.
Medics were quickly called to the scene and treated the injured Israeli woman, 26, before taking her to the nearby Hadassah Mount Scopus Hospital.
Israeli police later cordoned off Sheikh Jarrah neighborhood, according to witnesses.
They said that Israeli forces closed all roads leading to the neighborhood, broke into homes, stopped and checked cars and buses as a helicopter hovered over the area in search of the assailant.
Israeli police later announced that officers arrested a teenage girl suspected of carrying out the attack in a nearby educational institution.
Palestinian Hamas resistance movement has hailed the attack on Israelis.
"The heroic actions in the West Bank and al-Quds, the most recent of which was the stabbing of a settler in Sheikh Jarrah neighborhood, prove the greatness of our people whose resistance cannot be broken," Hamas spokesman Abdul Latif al-Qanoo said.
He added, "Our people in the West Bank and al-Quds are in an open battle with the occupation. They will pursue invaders and herds of settlers, anywhere and by all available means, until they leave our lands."
On Monday morning, the Israeli army shot and killed a Palestinian minor, who has been identified as 16-year-old Mohammad Nidal Younis from the village of Kufr Qalil in Nablus.
The teenager rammed a car into a military checkpoint near the occupied central West Bank city of Tulkarem, seriously injuring an Israeli guard.
Palestinian resistance groups praised the operation in Tulkarem as a natural response to the Israeli regime's continuing crimes against Palestinians.
"The day for revolutionary nations has started with a manifestation of salvation and resistance. A sacrificial operation was carried out against [Israeli] occupying forces in the early hours of today near Tulkarem in the West Bank," Hazem Qassem, a Hamas spokesman, said.
He added, "This is a passionate revolution, and Palestinian youths have decided to free themselves from the yoke of [Israeli] occupation. They will continue to show great creativity in their resistance until the entire Palestinian lands are liberated from the grip of the Zionist colonization."
Palestinian Freedom Movement also said in a statement that "the heroic operation near Tulkarem pointed to the deeply-seated nature of resistance in the hearts and minds of our people. It was a natural response to the provocative actions of the [Western] media."
"The operation showed that the blood of martyrs nurtures resistance and that occupiers will pay dearly for their crimes. Resistance is like a burning fire, and the occupation will be targeted anywhere on our lands," the statement read.