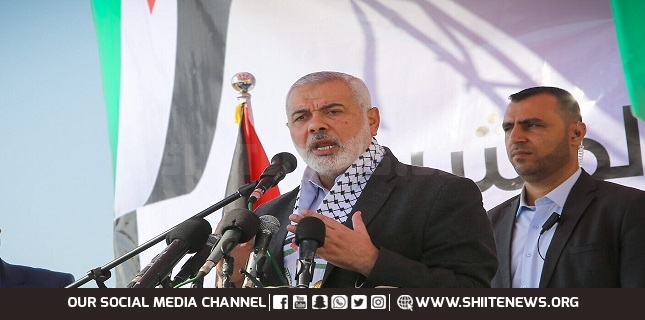 Head of the political bureau of the Hamas movement said on Thursday that it is time for the Islamic Ummah to settle a historic fight with the Zionist enemy.
According to Al-Mayadin, Ismail Haniyeh delivered a speech at the 12th edition of Al- Quds Pioneers Conference in Istanbul, organized by the Global Unions Coalition in Support of Alquds and Palestine.
He continued: "The variables that encompass the cause of the Palestinian people, the region and the Islamic Ummah are of utmost importance."
He reiterated that the time had ended the historic battle with the Israeli occupiers. The Muslim Ummah must create a comprehensive plan to counter Judaization projects and liberate and return the displaced.
He continued: "The partnership between the Islamic Ummah to confront the Zionist enemy is a real partnership, and the Ummah has never left Palestine and al-Quds behind, and its sun will never set."
Haniyeh stressed: "There is an urgent need to form a united front with the participation of all currents and different strata of the Islamic Ummah to confront the occupying regime."
Haniyeh stressed that significant developments had taken place around the cause of the Palestinian people, the region, and the world. Hamas considers positive effects in the interests of the Palestinian cause and the Islamic Ummah.
He added: "Operation al-Quds Sword was an important turning point in the history of the battle with the Zionist enemy and had consequences that are still ongoing."
He believes that this battle will end only with the liberation of Palestine.
Haniyeh said this withdrawal would prelude other leaves and weaken Washington's allies, especially the Zionist regime, regarding the US withdrawal from Afghanistan.
He stressed that the United States is no longer the global gendarme and cannot dominate nations.
Haniyeh also said that the " Al- Quds Pioneers Conference " will lead us to dignity and participation in the liberating Palestine project, when our enemies are trying to design and engineer the region to serve their own goals and aspirations.
The head of the Hamas political bureau also outlined three priorities for confronting the Zionist enemy, saying that these priorities include raising the value and status of Al-Quds and Al-Aqsa Mosque, supporting the resistance in Palestine, and destroying the project to normalize relations with the Zionist regime.