Palestine
Israeli forces arrested about 365 Palestinians, including women and children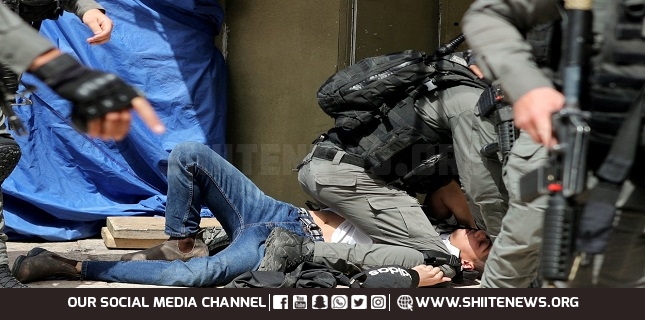 Israeli forces arrested about 365 Palestinians, including 50 women and children, in November, a report says.
In its monthly report, the Palestine Center for Prisoner Studies (PPCS) said that Israeli violations against Palestinians had soared considerably in the occupied West Bank last month.
According to the report, cited by the Palestinian Information Center on Thursday, Israeli authorities arrested 365 Palestinians, including 42 children and eight women in November.
The center added that 130 of the arrested people were rounded up in the occupied al-Quds city, while 48 others were detained in al-Khalil (Hebron), the largest city in the West Bank.
Also in November, Israeli forces detained 10 fishermen off Gaza coasts, two at the Erez crossing, three others for allegedly crossing the fence, and two journalists.
Israeli security forces often carry out detention raids against Palestinians in the occupied West Bank and al-Quds, claiming that they seek to arrest wanted Palestinians.
More than 7,000 Palestinians are reportedly held in Israeli jails. Hundreds have been incarcerated under the practice of administrative detention, which allows holding Palestinian inmates without trial or charge. Some Palestinian prisoners have been held in administrative detention for up to eleven years.
Palestinian detainees have continuously resorted to open-ended hunger strikes in an attempt to express their outrage at their detention.
Over a dozen Palestinian lawmakers and nearly 20 journalists are also held in Israeli detention centers, several of them under the same detention policy.